UPDATE 3 SEPT: We are disappointed to announce that due to rain and high winds, the Spin Fest Cringila event has been cancelled in the interests of community safety. We look forward to seeing you at future Spin Fest events.
The TOUR DA COUNTRY event has been postponed - and will be rescheduled to a future date.

Bikes, bites + community
10am-2pm, Saturday 3 Sept. Free entry!
As we count down to the excitement of hosting the UCI Road World Championships, we're rolling out the fun with Spin Fest - a community celebration with something for everyone.
Kick off race month with a family fun day right here in Cringila. Grab some wheels and explore the brand new Skills Park, Pump Track and Playground at the Cringila Hills Mountain Bike Park. Recharge with food trucks, music and multicultural entertainment, and be sure to stick around for the arrival of the annual Tour da Country First Nations community bike ride.
Ride Nation Workshops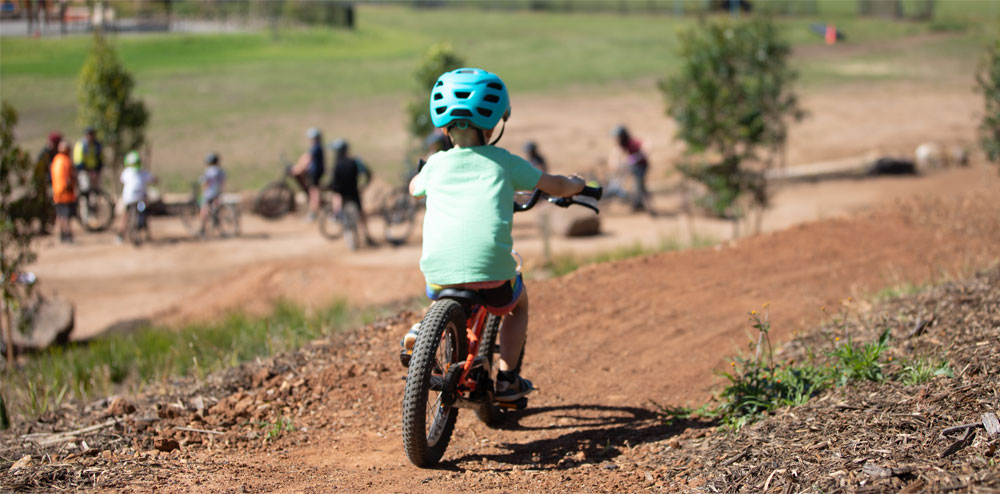 10:30am-2pm. Skill up at a Ride Nation workshop! Learn how to get started in mountain biking or BMX, get tips and tricks on using the new Pump Track, try out a jump, or race a mate on side-by-side Roller Racing.
Participants are recommended to bring their own bikes and helmets. A limited number of bikes and helmets will be available for workshop attendees to borrow if required.
Kid's Activities
There's plenty of fun activities to keep the kids busy. Try out the Treetop Circus aerial rig, juggling and hoops. Get creative and make your own maracas, pinatas or recycled bike wheel art. Paint the Gong REaD with Bright Spark, learn Aboriginal weaving and more.
Take a break in the Quiet Space Sensory Tent, where you'll feel calm with fun sensory activities.
Tour da Country
The Tour da Country is a community bike ride that aims to raise awareness of healthy lifestyle choices in Aboriginal communities, and to promote reconciliation amongst Australians. Celebrating their tenth year, the tour will follow a special local course this year riding from Helensburgh to Cringila across the iconic Sea Cliff Bridge and picking up community members along the way.
The riders will arrive at Cringila Hills at midday. Be there to cheer them on, then join the riders for cultural performances and indigenous games.
Get involved: Register to participate in the ride.
Family Picnic Day
Grab a coffee, bring a picnic blanket and soak up the sun while the kids make the most of everything Cringila Hills has to offer. Food trucks will serve up savoury and sweet treats, or bring your own picnic. Nearby Lake Avenue is renowned for its bakeries, deli and cafes!
On stage, enjoy live entertainment from renowned classical guitarist Sako Dermenjian, Oompah Loompah Band, Persian Ladies Dance Group, indigenous dance performances and more.
First Nations Welcome to Country
Experience a traditional Welcome to Country on Dharawal land. Spin Fest Cringila will be opened with a fire lighting and smoking ceremony, followed by traditional dance and yidaki performances.
Don't miss a moment
| Time | What's On |
| --- | --- |
| 10:30am-1:00pm | Kid's Arts + Crafts and Interactive Activities |
| 10:30am-2:00pm | Food Trucks, Circus Drop Zone, Ride Nation Workshops, Fornix Wheels Bike Repairs |
| 10:00am | Welcome to Country |
| 10:00am | Cleansing Dance, Bellambi Public School |
| 10:20am | Smoking Ceremony + Yidaki, Layne Brown |
| 11:00am | Persian Ladies Dance Group |
| 11:30am | Oompah Loompah Band (roving performance) |
| 12:00pm | Tour da Country Riders Arrive + Lord Mayor's Welcome |
| 12:15pm | Aboriginal Health + Reconciliation Talk, Dale Wright |
| 12:25pm | Gumaraa Dance Performance |
| 12:45pm | Sako Dermenjian, Classical Guitarist |
| 12:45-2:00pm | Indigenous Games, Dale Wright |
| 1:10pm | Oompah Loompah Band |
Plan your visit
Parking: Event car parking will be available at Cringila Public School. Please follow directions on site.
On-street Parking: Untimed on-street parking is also available on nearby streets.
Accessible Parking: A limited number of accessible parking spaces will be available on site.
Buses: Buses travel along nearby Lake Avenue, Cringila. Bus routes and times may vary during the UCI Road World Championships weeks. For up-to-date service info, download the Opal App.
Trains: The nearest train station is Cringila station, a 15min bike ride away. For up to date service info download the Opal App, or search train timetables here
Taxis: Book a taxi service from one of our local providers: Wollongong Radio Cabs and Illawarra Taxi Network
Entry to Spin Cringila is FREE, and no tickets are required.
This is an all ages event. Children must be accompanied by a supervising adult.
Spin Fest Cringila is an accessible event:
Accessible Toilets on site
Accessible Playground
Limited number of accessible parking spaces available on site
Drop off zone for direct access to event area
Continuous accessible walkways available between most activities
Quiet Space sensory tent on site
Social Story: Help yourself or your child feel prepared for the event by reading our Spin Fest Cringila social story. Click to download a printable Social Story.
Click to download a printable Access and Mobility Map of the Spin Fest Cringila site.
Food trucks and nearby cafes will provide plenty of food and drink options during the event.
If you'd prefer to bring your own, food and non-alcoholic drinks are permitted.
This is an alcohol-free event. Glass bottles and alcoholic beverages are not permitted.
Gear up for Spin Fest
Let's welcome the world to Wollongong this September! As the world's best cyclists arrive for the UCI Road World Championships, we're rolling out the fun with Spin Fest - a free program of family-friendly celebrations right across our city.