Roads, sports fields and beaches update
Monday 7 March 2022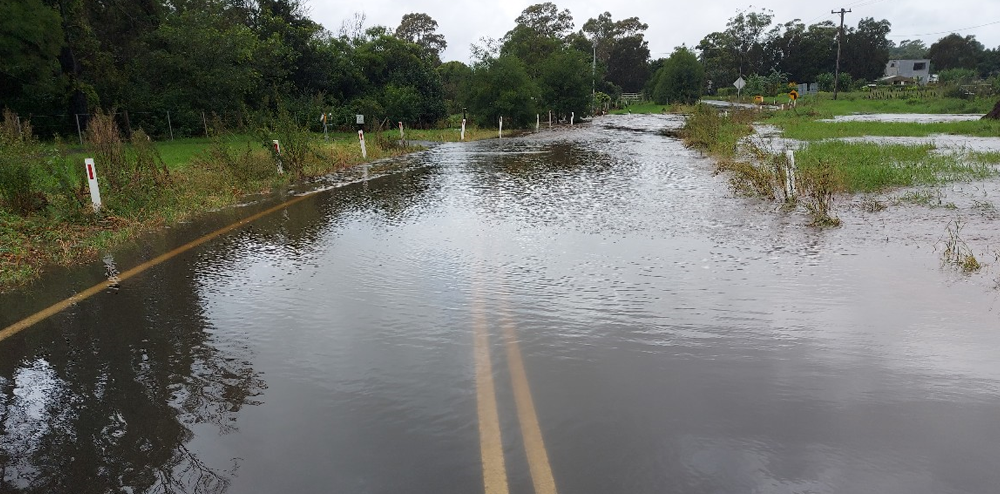 Image: Darkes Road, West Dapto
Harry Graham Drive, Darkes Road, the Lower Coast Road, Stanwell Park and Otford weirs are all currently closed.
We are asking drivers to be cautious driving along the stretch between Austinmer and Bald Hill as there are spots along Lawrence Hargrave Drive where water is running across the road. There are "water over road" signs on Lawrence Hargrave Drive at Wombarra near the bowling club.
In anticipation of heavy rain, we have placed "water over road" signs Northcliffe Drive near the yacht club and AFL fields at Warrawong, Old Port Road, Blackman Parade and Central Avenue near Wests Leagues Club, and Avondale Road.
Council crews continue to be out in our community inspecting our roads and culverts. Where there is a break in the weather, our crews are filling potholes that have opened up due to water seeping through the road pavement. We're prioritising potholes that are of particularly risk to safety – such as a pothole at the intersection of Darkes and West Dapto roads where temporary repairs have been undertaken ahead of more extensive repair works when the weather improves. Community members can help us in tackling this challenge by letting us know so we can task one of our crews. It's easy to report – just fill out our online form at https://www.wollongong.nsw.gov.au/.../rep.../roads-footpaths
With this week's forecast for ongoing wet and rainy weather, we ask that everyone continues to stay safe and to drive carefully and taking it easy on our roads.
Sand is available at Rex Jackson Oval, Bellambi Boat Ramp overflow car park, Fairy Meadow Beach car park and Fred Finch Park, and community members are welcome to take their own bags and shovels to fill their own sandbags for residential use.
We will continue to monitor road conditions across the city, and we have teams on standby to make areas safe should the strong winds bring down trees on public land.
Our 17 patrolled beaches along with the Continental Pool, Port Kembla Pool and Thirroul Pool remain closed due to predicted rainfall impacting on ocean water quality and hazardous sea conditions. We will continue to reassess the conditions across the week.
We encourage anyone visiting Woonona, Towradgi, Corrimal or City Beach to take extra care around areas of major sand erosion. Along these south-facing beaches there is significant scarping – where waves have eroded sections of sand to create areas with steep and dangerous drops. As we are predicting the potential for further erosion over the next 48 hours we will look to bring heavy machinery on to these beaches to make the areas safer once the weather improves.''
Our sportsgrounds remain closed today and due to weather forecasts and ground conditions.
Russell Vale Golf Course remains closed, and we will reassess on Wednesday.
Just like households across the city, this weather is making it very challenging to keep grass trimmed. We know there are areas of long grass across the city and many of our popular parks, playgrounds and public spaces are in need of a mow thanks to the perfect grass-growing conditions we're experiencing.
However, the current rainy weather conditions, huge volumes of rainfall and the extremely soggy grounds are making these tasks very difficult – particularly when, if the ground is too sodden, our mowers can damage the surface or get bogged.

We appreciate our community's patience as we prioritise area public safety during breaks in the weather. As conditions improve, and as the saturated grounds start to dry out, we will support community sports to get up and running by prioritising mowing of our sportsfields, and our city's well-used foreshore reserves.
We encourage residents to stay up to date by monitoring local news updates, monitoring the SES's local Facebook page, and Wollongong City Council's social media channels – City of Wollongong on Facebook and Wollongong_City on Twitter.

Media: Please attribute to a Council spokesperson