COVID answers for parks, playgrounds, pools and other Council services
Wednesday 30 June 2021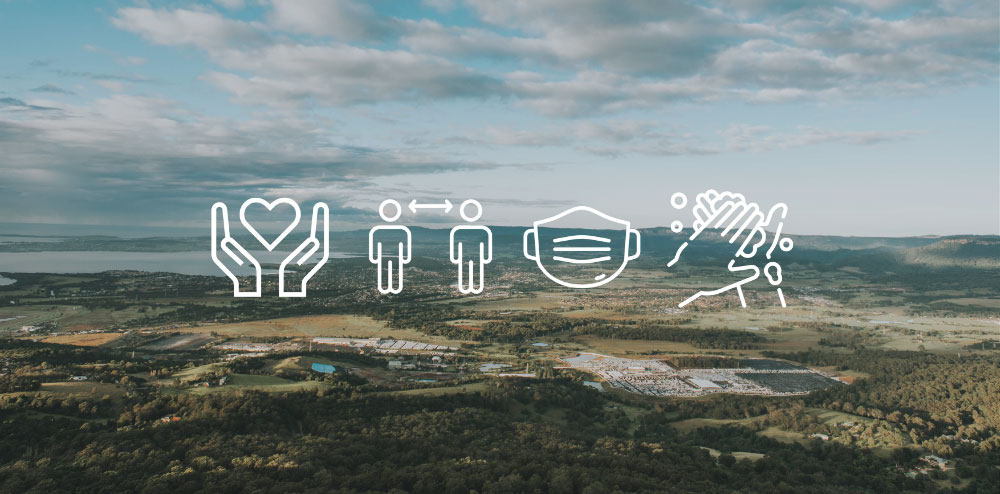 As we settle into the new restrictions this week, our priority is to ensure the health, safety and wellbeing of both Council staff and our broader community.
In line with the Public Health Order announced on Saturday 26 June, including the stay at home restrictions for Wollongong, we've made some key changes to our services.
"Over the past couple of days, we've received some common questions from our community about a number of Council services such as parks, playgrounds, libraries, pools, waste services and BBQs," Wollongong City Lord Mayor Councillor Gordon Bradbery AM said.
"We're working hard to ensure that all of our essential services continue to operate throughout this challenging time. However, as I'm sure you can appreciate, there may be some minor delays as we adapt to follow the recent Public Health Orders.
"In the meantime, I'd like to thank our community for their patience, perseverance and support as we work together during these restrictions. Please continue to follow the NSW Public Health Orders over the next few weeks by staying at home and social distancing.
"I'd also like to remind everyone that although you'll be seeing Council staff working in our community delivering essential services, our staff are unable to enforce COVID restrictions."
If you wish to report a COVID-19 breach of Public Health Act orders, go to nsw.crimestoppers.com.au.
Here's what you need to know about these Council services:
Libraries
All Wollongong City Libraries are closed and all events and programs have been postponed. Current loans have been extended until at least 16 July. Return chutes at each Library will remain open to receive returns during this period. Library members can still access a range of digital resources through the library website, including eBooks, eAudiobooks, digital newspapers and movie / documentary streaming.
For more updates on library services, please see the Libraries' FAQs page.
Playgrounds, outdoor fitness equipment and skate parks
Playgrounds, outdoor fitness and skate parks remain open, in line with public health orders. We ask that you please follow NSW Health social distancing advice. Wear a mask where appropriate, use hand sanitiser, social distance and stay home if you're feeling unwell.
BBQs
All communal BBQ facilities in Council's open spaces are closed for use.
Waste services
There will be no changes to household waste collections. Red, green and yellow bins will continue to be picked up as usual. If you have questions about your bin collection service, call 1300 362 360 or visit the Wollongong Waste website.
Wollongong Waste and Resource Recovery Park (Whyte's Gully) remains open for essential waste. Payment continues to be by card only. For more see Our Waste Depot webpage.
Council essential services
Removal of waste from public bins, cleaning of public toilets, and North Wollongong beach lifeguards will continue. Council's Community Transport services will also continue to support essential services and advice will be provided directly to our customers and volunteers.
We ask for your patience as we adapt to the latest COVID restrictions so that we can continue to service our community.
Beaches and pools
Supervised swimming pools, Dapto Pool and the Continental Pool are closed to comply with the current Public Health Order and keep our community safe. Berkeley, Helensburgh, Western Suburbs, Port Kembla and Thirroul pools are already closed for winter and Corrimal is currently closed for repairs.
The rock pools are considered unsupervised and will continue to be maintained. While they are not affected by the restrictions, people are asked to follow the NSW Health's social distancing advice before considering a swim.
Lifeguard services at North Wollongong beach will continue as normal. North Wollongong beach is patrolled year-round and all other beaches are unpatrolled until 18 September 2021.
Parks and gardens
Wollongong Botanic Garden remains open for public use. However, the Friends of the Botanic Garden program, and all public programs, are suspended until further notice.
Our other parks and natural spaces will also remain open for use for exercise only in line with the public health order. We ask that when using these spaces, you continue to follow the NSW Health's advice. For more information visit our Parks and Gardens webpage.
The Vale Golf Course, Russell Vale
The Vale Golf Course is currently closed however planning is underway to reopen for recreational golf tomorrow Thursday 1 July. Cart hire and all competition will remain on hold until further notice.

Any play will need to take place in line with NSW Public Health Orders, and our COVID-Safe plan. Please check The Vale webpage for updates.
For the full list of Council service updates, including the Art Gallery, Leisure Centres and Tourist Parks see our media release: 'Changes to our services due to COVID-19'.
We encourage our community to stay informed by visiting NSW Health's website for the latest updates and information. Council-related information will be posted on the City of Wollongong Facebook page and our website.