An update on our sports fields
Monday 23 May 2022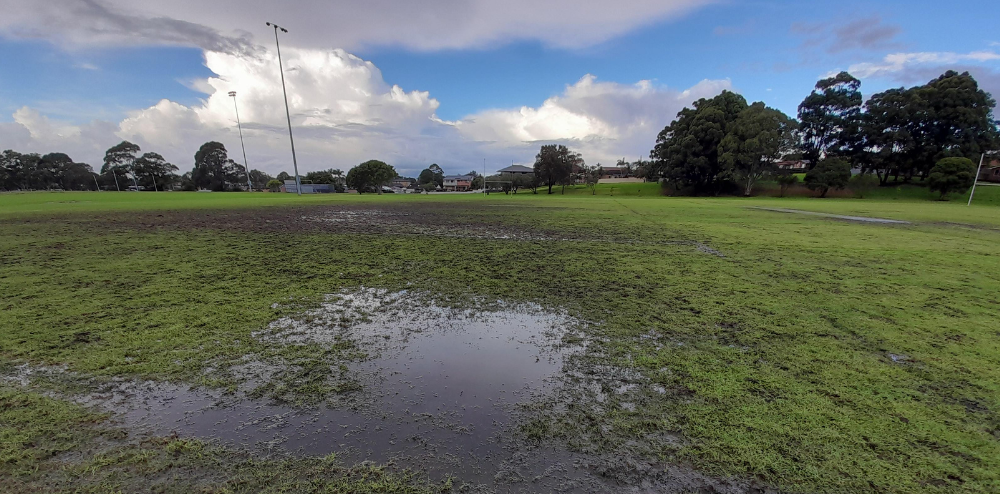 Last Friday, Wollongong City Council opened 11 of its sports fields, and two additional non-playing sites for play over the weekend.
However, with rainfall of up to 30mm in some parts of the city overnight on Friday and into Saturday morning, Football South Coast, with the support of Wollongong City Council, cancelled all of its soccer games for Saturday. Local rugby teams opted to play at five locations; Thomas Gibson Park in Thirroul, Hollymount Park in Woonona, Ziem's Park in Corrimal, Mt Kembla Oval and Noel Mulligan Oval at Warrawong.
On Saturday, Council closed all of our sports fields for Sunday play and given the current weather forecast, it's likely the closure will remain in place across the week and into next weekend.
The impact of play by rugby league clubs remains under assessment by Council staff. Early indications show that fields at Ziems Park in Corrimal have held up well, but there has been damage on high-traffic areas around the canteen. The senior rugby league match at Thomas Gibson Park in Thirroul has left the field damaged, although how long the field will be out of play is currently unknown. The maintenance and safety of fields when they are in use are the responsibility of both the grounds' home club and Wollongong City Council. We will be working with the clubs to support any repairs or remediation needed.
Regardless of the weekend weather, Council staff will continue to focus on working with local sporting clubs and associations to support play, where possible, and the overall the care and maintenance of our sporting fields. We will continue to do our best and prioritise opening any of our 42 fields as they are safe to play on.
The regular and ongoing rainfall is keeping the soil saturated. Our staff – many of whom have more than 30 years' experience in sports field management – have never seen conditions so challenging for play. We estimate for some of our fields, we need at least four weeks of no rainfall just to get our mowing equipment onto them and for other fields, it's even longer. For the safety of players, our fields need to be cut with mowers that have rollers on the cutting deck. These rollers level out small undulations and uneven surfaces, which can cause injury, as they move across the ground.
We have explored using hand mowers and whipper snippers in our parks and playgrounds where conditions are too boggy for heavy equipment, but these are not a long-term solution and can also damage the playing surface. In the current conditions even a hand mower can create ruts in the soft ground, and a person walking around with a whipper snipper can leave imprints where they've stepped. These ruts and imprints remain on the ground surface.
Therefore, we're also asking community members who have enthusiastically taken their mowers and whipper snippers to fields, to stop their well-intentioned efforts. We appreciate – and wholeheartedly support – their desire to get back into weekend sports, but we need to do this in a way that means that fields won't be damaged and potentially offline for longer.
For the remainder of the season, Council will continue to manage our grounds on a field-by-field basis and our mowing staff will cut them as soon as it can be done safely. We are assessing the fields daily and will open individual fields as and when we can despite these challenging conditions.
We encourage community members to stay in contact with their local sporting clubs and associations for updates on their local fields.