Updated safety signage for Hill 60
Thursday 1 April 2021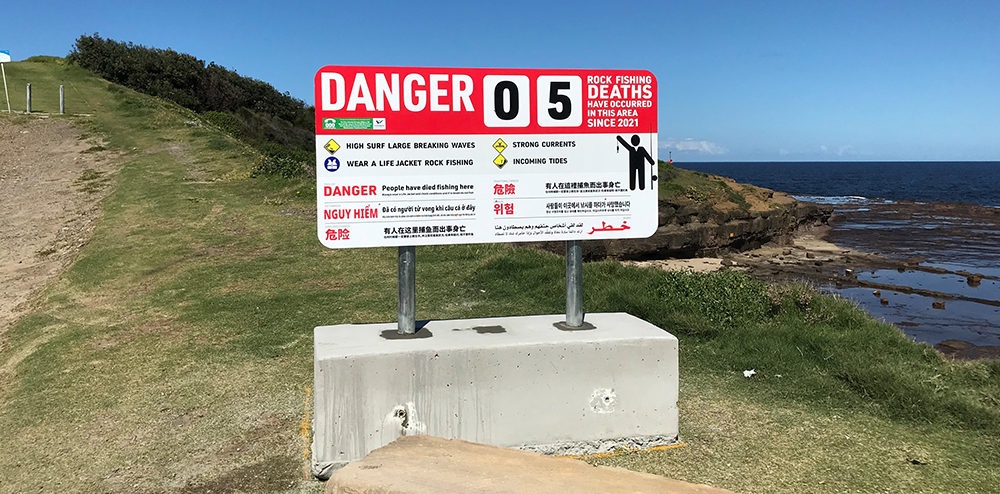 As part of an ongoing campaign to raise awareness about the dangers of rock fishing, Wollongong City Council has installed two new danger signs at Hill 60.
The bright red signs are designed for shock value and features the word "Danger" written prominently across the top and has a numerical 'death count' in its centre.
The signs are modelled on those used at rock platforms in the Randwick local government area and are intended to drive home the message that rock fishing can be a dangerous sport.
"It's tragic that we have seen five lives lost at Hill 60 alone this year due to rock fishing,'' Wollongong City Lord Mayor Councillor Gordon Bradbery AM said.
"That's five families too many who are faced with losing a loved one and having to rebuild their lives.
"We hope that these new signs will encourage people to think twice about the sea conditions, their skills and whether to wear a life jacket before they reach the platform.''
The signs' safety message – "People have died fishing here. Always wear a life jacket and if in doubt do not fish" – is presented in six languages; English, Vietnamese, Simplified Chinese, Traditional Chinese, Korean and Arabic.
Symbols are also used with words to indicate high surf large breaking waves, incoming tides, strong currents and that people should always wear a life jacket.
"We know not everyone will follow the sign's instructions in the same way that not every driver sticks to the marked speed limit on the road,'' Cr Bradbery said.
"But we do hope these eye-catching signs make people pause and think before they head to the rock platform about the conditions and their safety.''
The new warning signs are in addition to other signs put in by Council in February this year and will be supported by ongoing conversations with key government agencies, and a focus from Council on rock fishing education.
"It's important we all work together and collaborate on ways to support rock fishers' safety,'' Cr Bradbery said.
"With Government agencies like Council, the NSW Government, NSW Police and Surf Life Saving NSW coming together and working with local fishers and sports fishing associations we're able to focus on a more cohesive and proactive outcome.''
Council's website also contains more information and advice on safer rock fishing.