Reminder to put safety first at our beaches
Friday 17 December 2021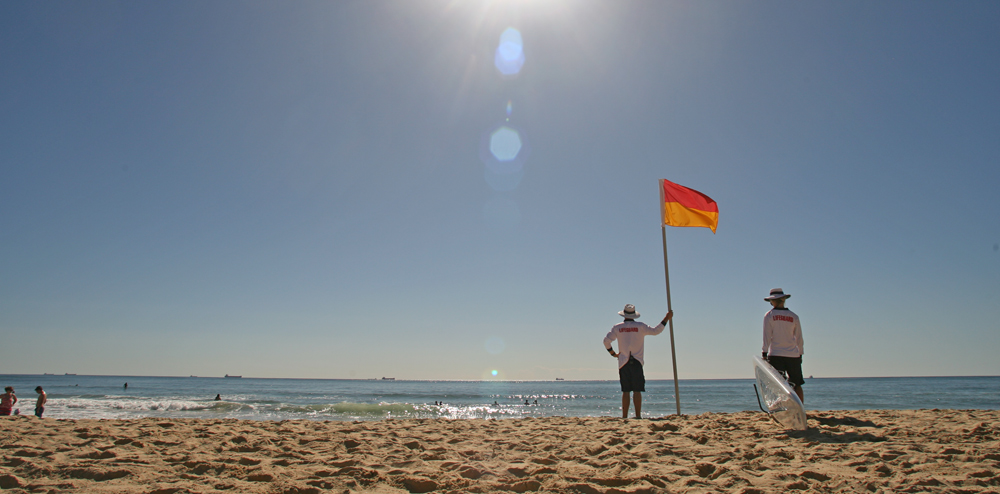 We're asking beachgoers to continue to put safety first at our patrolled beaches and take extra caution when hitting the waves this summer.
We've 17 patrolled beaches from Stanwell Park in the north to Windang in the south. With Council lifeguards stationed at each of these beaches on weekends and Saturdays and Surf Life Saving volunteers on Saturdays and Public Holidays, we're helping our community enjoy a safe visit.
A full list of our patrolled beaches and hours can found on our Beaches page.
Wollongong City Council Director Community Services Kerry Hunt has urged the community to stay on alert as we head into a forecasted rainy season.
"Bureau of Meteorology has advised that we're expecting above average rainfall this summer with La Nina being established. So, we're asking the community to be vigilant as this weather may still provide dangerous swim conditions," she said.
"Our lifeguards will still be on the sand to determine if it's safe to get into the water, but it's vital to understand that if we have not put the red and yellow flags up it means no swimming at all.
"On the welcomed days where the sun is out, please remember to swim between the red and yellow flags during patrol hours, as our lifeguards have determined that these are the safest spots to swim. If you're unsure about the water, its conditions or the beach rules, speak to one of our lifeguards who are happy to provide advice."
Although our lifeguards are on hand to help, we ask you read up on beach safety and rules before visiting one of our patrolled beaches. This includes getting familiar with Beachwatch, which regularly monitors water quality at local beaches and updates pollution forecasts daily.
Ms Hunt said its important people are aware of all the potential dangers of swimming at our beaches and that includes inspecting the water before entering.
"Water run off after significant rainfall can contribute to poor water quality. In these circumstances, it's best to check out the conditions on Beachwatch and, perhaps skip the swim for that day or head to an alternate location," she said.
"The weather forecast means it will feel like a different summer but the message to look after yourself at our beaches remain the same. Our lifeguards will try their best to help you in the water but it's also up to you to follow the beach rules. Please don't risk your life and be beach safe."
Visit our website to find out more information including beach safety tips, information on rip currents, and translated resources.
We're also adding an extra hour at four of our 17 beaches this Saturday 18 December so beachgoers can seek a swim later in the day. We may extend hours during this summer season so make sure to stay up to date on our website and Council's Facebook page for the latest advice.
Ms Hunt said this summer was anticipated to be a busy one on Council's 17 patrolled beaches and we encouraged people to explore a new beach if their usual one was particularly busy.
"Our advice is to either enjoy an early swim, or one later in the day before the flags go down when it's likely to be less busy. Keeping an eye on the LiveTraffic website can be helpful in terms of understanding where there might be more people and traffic congestion," she said.
"We're also asking people to remain COVID-safe. While masks do not necessarily need to be worn, people can choose to keep them on when out and about. Please maintain social distancing habits and if you're feeling unwell, go and get a COVID test and stay at home. Please don't go for a swim and put others in our community at risk."
From Saturday 18 December, the following beaches will be adding an extra hour for patrols.
Coledale, 10am – 6pm
Sandon Point, 10am – 6pm
Bellambi, 10am – 6pm
Windang, 10am – 6pm