Replacement causeway opens at Otford
Friday 17 November 2023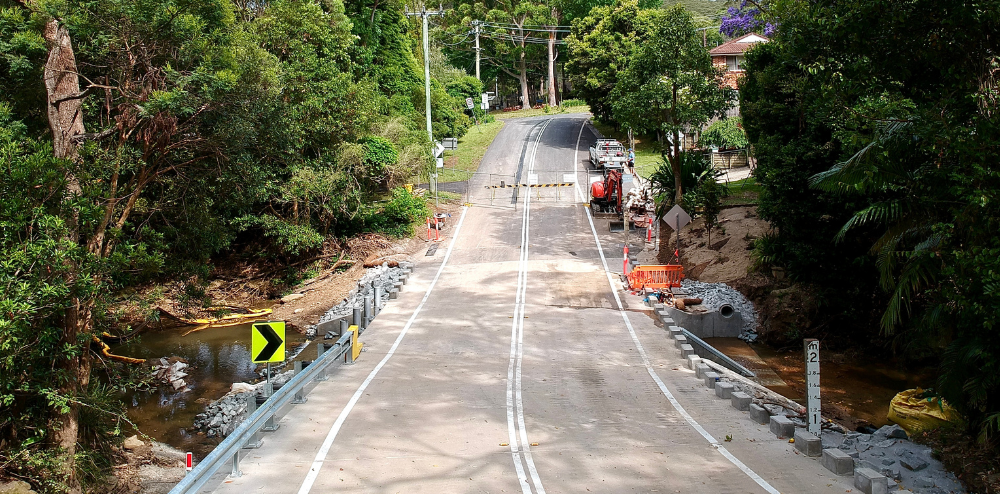 On the 9 February, Otford Causeway, on Otford Road, was destroyed by heavy rainfall that saw huge slabs of concrete lifted off the causeway and moved along the road and down the Hacking River. The culverts under the road surface were also moved and broken.
Today, a little more than nine months after the event which resulted in the complete closure of the road and a natural disaster declaration by the NSW Government, the road will reopen.
Over the past nine months, a new and improved causeway has been built. The new causeway is constructed to modern standards and responds to earlier community feedback highlighting the need for better line marking at the location.
"This is a good news story for the community of Otford who have had their daily routines disrupted by the road's destruction,'' Wollongong City Lord Mayor Councillor Gordon Bradbery AM said.
"The new road and culvert has been designed to withstand major storm events. It also has improved features including a wider deck, a central debris deflector to prevent blockages during times of significant rainfall, better line marking and additional warning signage.
"I'm sure the community will welcome this news – especially those who have had to make changes to their routines to accommodate the closure. We were focussed on getting this completed prior to summer for access and egress during the bushfire season.''
Wollongong City Council General Manager Greg Doyle said staff had been working to design, build and reopen the causeway as soon as possible and he was pleased to see it operational ahead of a hot summer.
"We know this community carries a significant bushfire risk and it was a priority for Council to get this road reconstructed as soon as possible,'' Mr Doyle said.
"While we've liaised closely with other agencies like Transport for NSW and the Rural Fire Service throughout this project and have had contingencies in place should there be an emergency, it's a relief to see it operational.
"This was a complex project to deliver in a challenging location. More than 550 cubic metres of concrete was used to build the new causeway and road and we've been fortunate over the past few months with the weather conditions that have allowed us to deliver this road reopening on schedule.''
While the new causeway replaces a causeway that was constructed in the 1970s, it has been built to current engineering standards and the design included the latest flood and debris movement data and information. Detailed plans are available on Council's dedicated Otford Causeway webpage.
"We expect this causeway to be a lot more robust in rain events,'' Cr Bradbery said.
"That does not mean this road will not flood – it will because of its location and the way water moves through this area. What it does mean, is that there is more room for water to flow through the culverts, the debris deflectors should minimise materials being swept along the river system from blocking the culverts and the updated marking will make it easier for people to see the road in tricky conditions.
"These are all positive engineering outcomes for a location where building a bridge was just not a feasible option.''
Proudly funded by the NSW Government through the Transport for NSW Natural Disaster Recovery Fund.