We're working on many projects to support the growing community of West Dapto.
Most of our work so far has focused on important West Dapto Access Strategy projects. In the future, our work will expand to include things like sports and community centres, parks and playgrounds, and other public facilities.
West Dapto Access Strategy
The West Dapto Access Strategy is our long term to-do list to create roads and paths for people safely and enjoyably drive, walk, cycle and commute through the area.
This strategy will continue to roll out over coming decades as West Dapto grows. It supports our West Dapto Vision PDF, 15307.46 KB to connect this growing network of communities.
Over the last 10 years we've invested more than $100 million researching, designing, upgrading and building new roads, bridges, paths and stormwater structures. In April 2020 we reached a major milestone with the opening of the Fowlers Road to Fairwater Drive Link and Karrara Bridge – see the completed works section of this page for details.
Planning and funding for access projects
A lot of work happens behind the scenes to deliver the infrastructure that you see: we seek funding, plan, research, design and adjust plans based on feedback from our community, businesses, developers, government agencies and landowners.
Money for these projects comes from a mix of developer contributions and State and Federal government grants. We give priority to road and bridge projects based on risk, and aim to provide flood-reliable access to new subdivisions.
Internal residential roads in subdivisions are usually built by developers. Larger roads are typically included in Council's developer contributions plan, where developer levies are collected to allow these roads to be delivered.
Projects take many years to develop and deliver. Multiple studies and investigations are done to produce a concept design for each project. Over time this is refined based on feedback from the community and key organisations to become a design. The design lets us work out where we may need to buy land, for example to widen a road. Finally, we prepare a detailed design which we use to tender the works and get to construction.
Ongoing works in West Dapto
West Dapto Road will be upgraded from Shone Avenue, Horsley to Rainbird Drive, Kembla Grange. Construction began in 2022 and is expected to take several years to complete.
The first phase of works at the western end of West Dapto Road are now complete.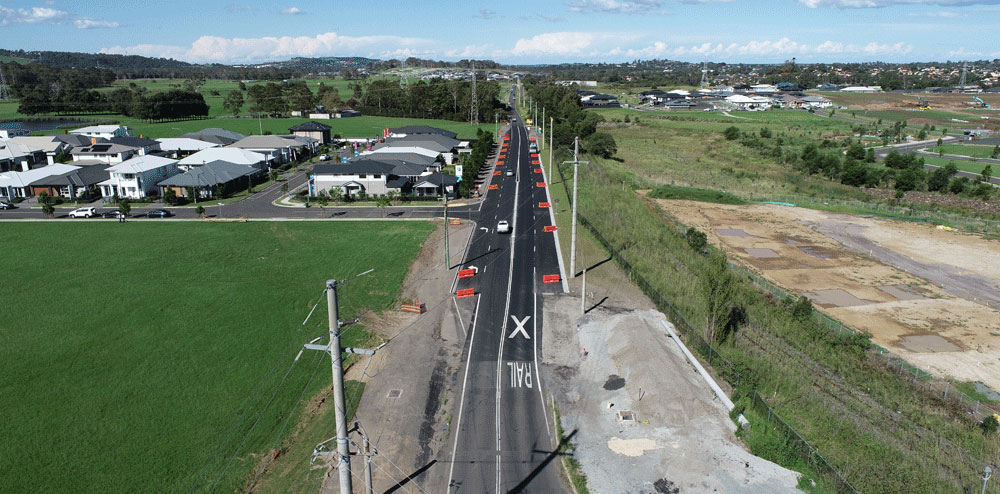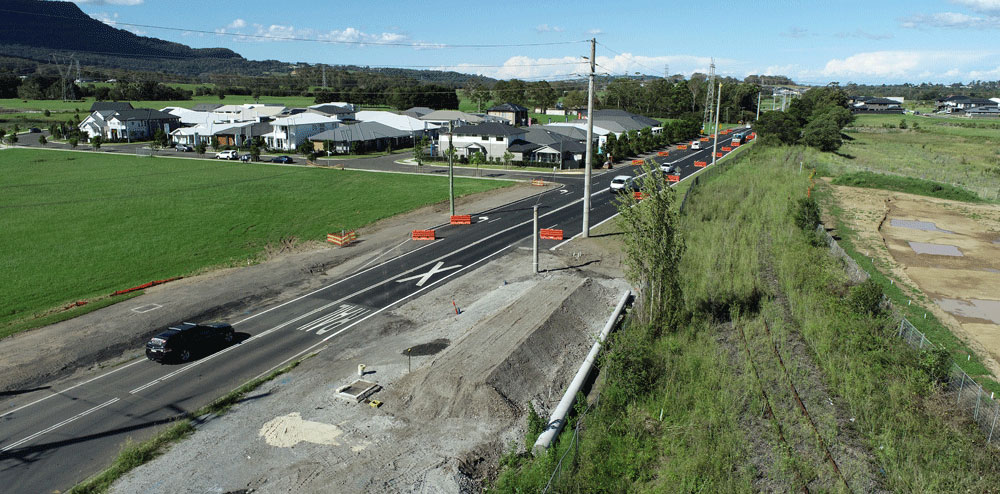 We're in the planning stage for the upgrade of the intersection of Shone Avenue, Wongawilli Road and West Dapto Road as well as works along West Dapto Road towards Rainbird Drive. If budget allows, works will extend past Rainbird Drive through to Yard Street, Kembla Grange. Council will share more with the community once we're ready to start work.
This large-scale project includes:
Road, pavement and drainage works
Improved access during flooding
New traffic signals at the Shone Avenue, Wongawilli Road and West Dapto Road intersection
A new shared pathway to connect pedestrians and cyclists from Wongawilli town centre to the planned Darkes town centre
The construction of a new pedestrian bridge, and
Boom gates and flashing lights at the Shone Avenue rail crossing.
The West Dapto Road upgrade project is proudly funded by the NSW Government in association with Wollongong City Council.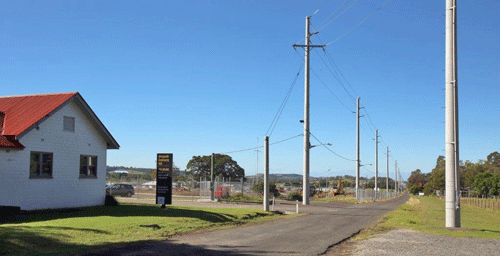 We want to make sure Wongawilli Village has the infrastructure needed to support its growing population, reduce flood risks and increase safety.
We've finished most of the planned upgrades for Wongawilli Road. This includes:
Extensive stormwater management works
Widening Wongawilli Road
Building a new shared path on the northern side of the road
Providing kerb and gutter
Installing traffic calming facilities
Upgrading utility services
The last thing we have to complete is an asphalt seal. This is planned for the end of June 2023, if weather conditions are suitable.
We're busy investigating, designing and refining other key road projects, including:
Northcliffe Drive extension to West Dapto Road
Cleveland Road upgrade
Fowlers Road - south
West Dapto / Sheaffes / Darkes Road upgrades
Hayes Lane upgrade
Yallah Road and Marshall Mount Road upgrades
Avondale / Huntley Road upgrades.
When we're ready to invite community feedback on any of these projects, details will be made available on the Our Wollongong website.
Completed works in West Dapto
Karrara Bridge at Fowlers Road opened to motorists, pedestrians and cyclists on 28 April 2020. It provides new flood-reliable access between Dapto and West Dapto and eases congestion through Dapto Town Centre by reducing traffic on Bong Bong Road.
Karrara is the traditional Aboriginal name for Upper Mullet Creek. It was suggested by the community when we asked for bridge name ideas.
This project was one of the largest ever undertaken by Council. It includes:
a 1.3 km four-lane road
shared path
two bridges
flood reduction works
the deviation of Marshall Street under Karrara Bridge
road widening at Princes Highway and Fowlers Road.
The project also included tree planting and landscaping in Dapto and Horsley and public artwork on the Karrara Bridge underpass in Marshall Street.
In addition to funds provided by Council, initial funding for this project has been secured from the Australian Government; the NSW Government - Infrastructure NSW's Restart NSW Illawarra Infrastructure Fund; the NSW Government - Office of Local Government's Local Infrastructure Renewal Scheme; and a Design Grant from NSW Government - Department of Planning and Infrastructure.
Take a look at Karrara Bridge below.
Karrara Bridge signage and artwork
We've installed a sign at Karrara Bridge featuring a painting by Dapto High School student, Cooper Barnes.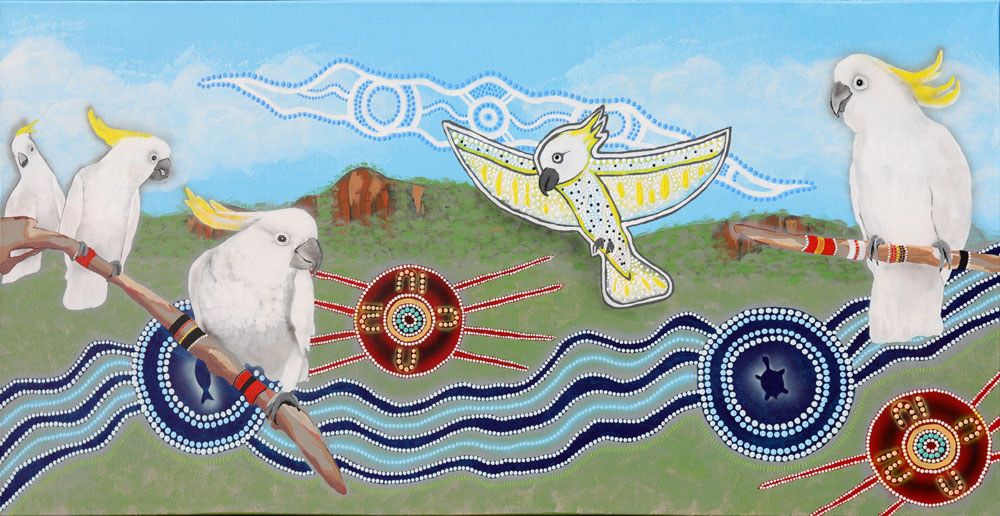 As a proud Indigenous boy from Yuin Country and Dapto High School student, I have been honoured and humbled to be asked to design an artwork representing Kararra Bridge, Mullet Creek and the connection our school, as a meeting place of learning, has with community and its surrounding area.

My painting highlights the beauty of Mullet Creek and includes the ponds and waterways that run alongside the school, full of fish and turtles, which I enjoyed as a kid. I've also captured the beauty of the escarpment and the native birds that are part of our landscape and my life growing up.
Artist statement supplied by Cooper Barnes 2022.
Northern Bridge

In 2014 we completed work to replace a single lane bridge on Shone Avenue with a wider bridge allowing two-way traffic. The bridge was raised 2.7 metres, making Shone Avenue more accessible during periods of heavy rain.
The alignment of the road was changed to improve lines of sight and increase safety. We now have shared paths on both sides of the road to provide better safety and access for pedestrians and cyclists.
Southern Bridge
In 2015 we replaced an old culvert with a new four-lane bridge on Shone Avenue. The bridge is higher, removing the dip in the road.
This new bridge allows better access during periods of heavy rain and flooding. The works also included kerb and guttering, and extension of the shared path.
Both projects were funded by the Australian Government's Building Better Regional Cities Programme (BBRCP).

To improve safety we put in traffic lights at the intersection of Cleveland Road and Marshall Streets, established a 'No Right Turn' into Marshall Street from Cleveland Road, and built a median strip from Mullet Creek bridge to Western Avenue.
New and wider footpaths and a pedestrian safety fence were constructured from the rail bridge to the Princes Highway to provide better access for students and pedestrians.
The single lane bridge over Mullet Creek was replaced with a higher two lane bridge. This now provides reliable access during heavy rain. A roundabout, a 'kiss and drop zone' (car park) and new school bus zone were also constructed.
The project was funded by the State Government's Local Infrastructure Fund (LIF). Works were completed in 2014.

With the increase in housing in the area, West Dapto Road will become a more important transport link. With issues of flooding, rail crossing, blind corners and narrow carriageway the road needs significant work to upgrade. We completed research in design and a flood study for the area.
The upgrade of the intersection of West Dapto Road and the Princes Highway was completed in 2014. Including access to the Illawarra Turf Club meant the intersection is now four-way. Traffic lights, a left turn lane from West Dapto Road and a new shared path were included in the upgrade.
The project was funded by the State Government's Local Infrastructure Fund (LIF).

We extended Fairwater Drive from Highcroft Boulevard to Bong Bong Road and from Sierra Drive to Cleveland Road. The new section of road was initially called Daisy Bank Drive, but has been renamed Fowlers Road, as an extension of the Fowlers to Fairwater Link.
It provides an alternative link from Horsley to the Princes Highway. You can now cycle or walk on the shared paths alongside the new road.
The project also included the construction of a through-road in front of Dapto Primary School. This is for student pick up and drop off. Residents can also access Sierra Drive and surrounds.
The project was funded by the State Government's Local Infrastructure Fund (LIF). Works were completed in 2011.