Southern Suburbs Community Centre and Library
We're planning a new community centre and library for the southern suburbs of Wollongong. The new centre will serve Berkeley, Lake Heights, Cringila, Warrawong, Port Kembla, Primbee and Windang.
This will be a high-quality space that offers a wide range of services, and is inclusive, safe, welcoming and accessible. We're also working to make sure it's environmentally sustainable and has flexible features to meet our community's needs for many decades ahead.
Location
The new Southern Suburbs Community Centre and Library will be located at 1 Greene Street, Warrawong (corner of King and Greene Streets).
The new building will be located on a parcel of land that includes the site of the existing community centre on Greene Street plus several properties along King Street at Warrawong.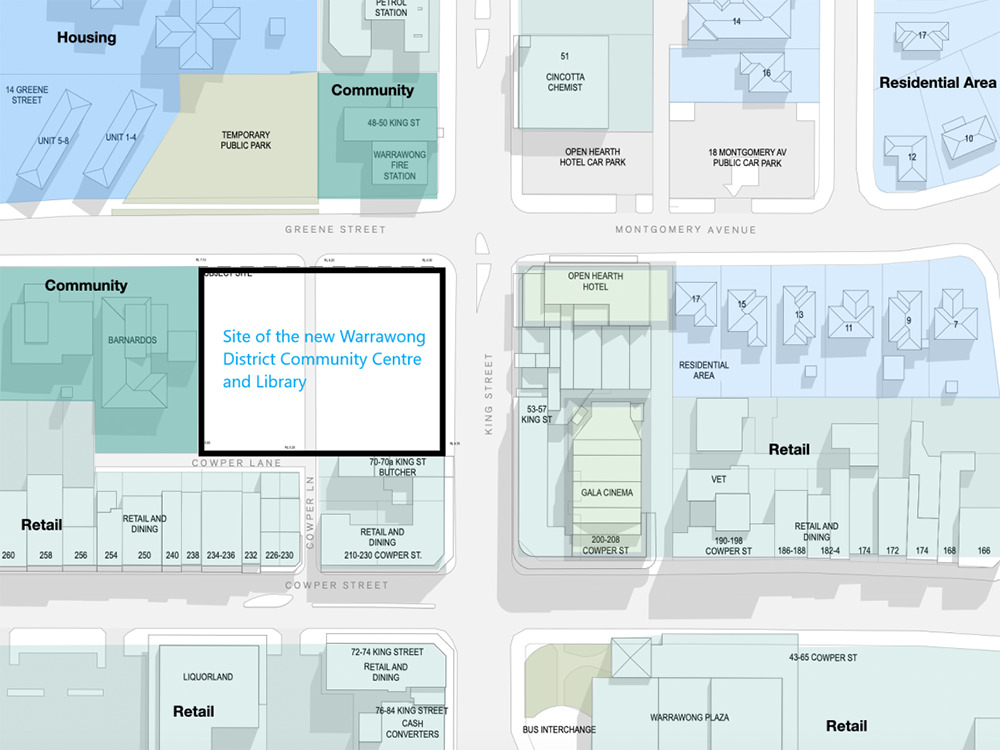 The design
The design for this new community space was shaped by feedback from our community. We'd like to thank everyone who shared their great ideas and vision for this project.
We're also actively following the NSW Government's Better Placed guidelines for high-quality public spaces.
The architect for this project, fjcstudio, has prepared a concept design for the project with Council. Some key features of the design include:
A green 'town square' alongside the community centre and library. This will include a large grassed area with trees and gardens, and a series of play, recreation, seating, and activity spaces.
A large forecourt and a 'Community Veranda' with seating and steps overlooking the green space of the town square.
New purpose-built library spaces offering books, magazines, DVDs and other resources, as well as free computers and WiFi. The library will also have activity areas for programs and events, and quiet spots to read and relax.
A stepped auditorium that can be used for presentations and performance.
A range of multi-functional rooms, including small and large meeting rooms, activity spaces, a children's area, quiet study and office areas, and a lounge.
A large community hall with adjoining kitchen.
Office spaces for centre management.
Office spaces for community licensees, including Warrawong Residents Forum, Vietnamese Association of Wollongong, and Illawarra Legal Centre.
A sensory room to provide a quiet space for people with disability and others who need a space to decompress or focus.
A changing place for people with disability.
Free public Wi-Fi throughout the building and library with 'plug and play' access to personal devices.
Public art installations throughout the new building and town square
A cafe opening onto the Community Veranda and Town Square.
'End of trip' facilities to encourage active transport like bike-riding and walking.
Connections to surrounding areas through a series of pedestrian and shared laneways. These spaces are designed to link with the separate Cowper Street Renewal project (which is currently in the early phases of design).
A focus on sustainability for energy, water, and greenhouse gas emission targets.
Artist impressions
To see building plans and the approved Development Application, please visit the NSW Planning Portal.
Project timing and updates
Community engagement on the concept design began in 2019.
We shared initial designs in July 2021 and invited community feedback.
The Development Application (DA) was exhibited in late 2021 and determined by the Southern Regional Planning Panel in October 2022.
In late July 2023 Council opened an Expressions of Interest process for construction of the major project.
Construction is expected to start in early 2024, with the new centre opening to the public in 2026. Please note, these dates are an indication only, and may change.
We'll provide further updates as we reach new stages for the project.