John Kennedy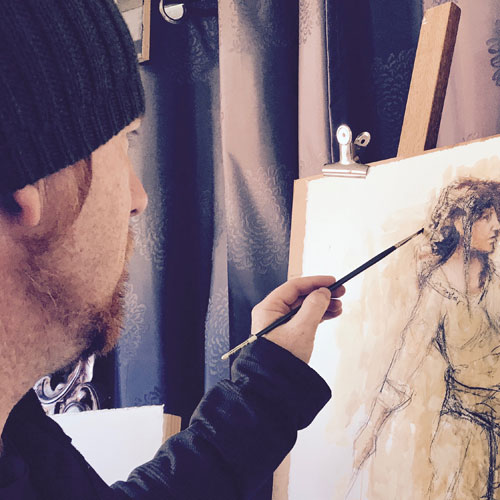 John Kennedy, (aka Jedika), is an awarding-winning artist, miniaturist, and art teacher from Wollongong.
He has completed a Diploma of Fine Arts (West Wollongong TAFE) and Bachelor of Creative Arts (University of Wollongong), as well as qualifications in natural history and archaeological illustration work.
John's work has been exhibited throughout the world from Australia, Turkey, England, France and Italy, and has recently been included in two time-capsule missions to the Moon.
Over the last decade, John has worked with London composer and pianist, Lola Perrin, examining the relationship between music and the visual arts. One of his drawings is in the permanent collection of the London Museum of Design.
More recently, John was filmed on the international television program Colour in Your Life, hosted by Graeme Stevenson, for which John has received ongoing national and international exposure.
In 2017 John's 5cm miniature work became a semi-finalist entry in the Moran Prize and won 1st prize in the Thirroul Seaside Drawing Prize, and 2nd prize in the Thirroul Miniature Awards in 2017, as well as winning 1st and 2nd prize in the Thirroul Seaside Miniature Awards for 2018. For the last 14 years, John has been teaching art through Levers in Wollongong and running workshops through the Illawarra.
His current drawings and paintings examine the art of storytelling and the imagination through intricate miniature techniques devices.
"I am fascinated by the human mind and the nature of human curiosity. I often explore what we imagine in our minds and give them a physical existence outside the body."
John Kennedy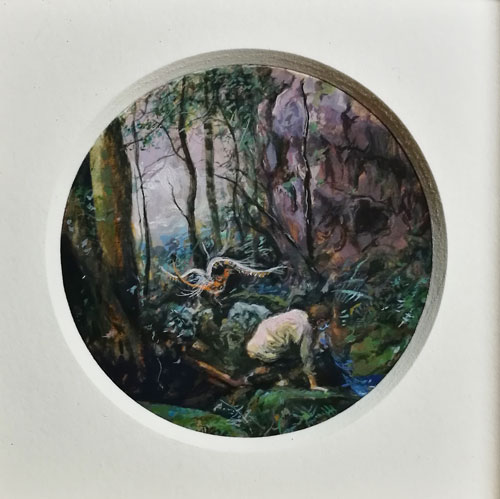 Above: John Kennedy (aka Jedika), I came to myself within a dark wood, 2022, oil paint miniature