The Blue Mile stretches from Stuart Park in the north to Wollongong Golf Club in the south.
This much-loved section of our coastline has spectacular views, shared pathways and parks, plus plenty of places to eat or be entertained. When you're visiting, keep an eye out for public art and local history signage to learn more about the fascinating past of this area.
We've been working for more than 10 years to improve this section of our coast. Our work is guided by the Blue Mile Vision and Masterplan PDF, 1483.15 KB, which is a long-term plan made up of many different projects.
Each individual project aims to make this area easier to use and welcoming, while protecting the historic value of our harbour and surrounds.
Completed work
Blue Mile Tramway Seawall and Shared Path Upgrade
We built a new, wider shared path and seawall between Belmore Basin and North Beach Bathers Pavilion.
This 500m path is known as the 'Tramway'. It was used by trains to take coal from local mines to the harbour in the late 1800s and early 1900s.

The Blue Mile Tramway Seawall and Shared Path Upgrade was jointly funded by the Australian Government through its National Stronger Regions Fund and Wollongong City Council.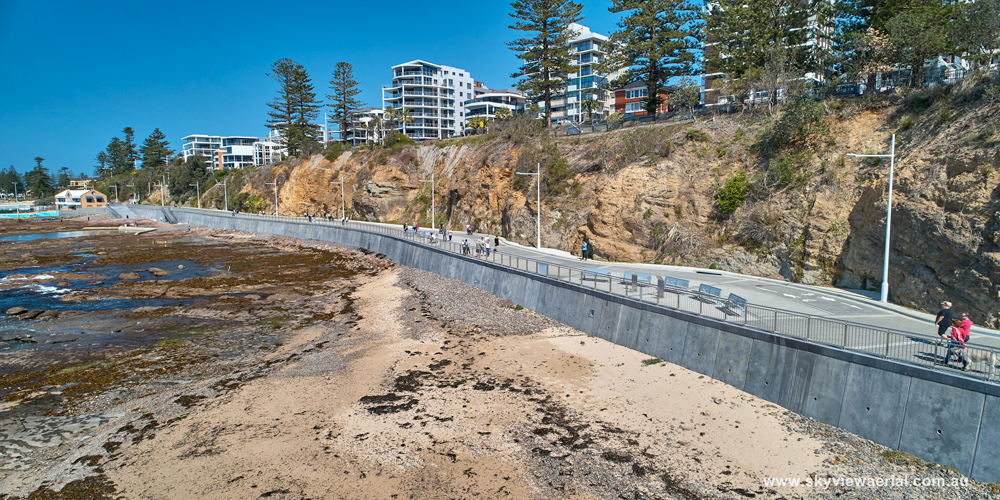 2016
The stairway from Cliff Road to the Continental Pool was replaced.
New picnic shelters and an accessible pathway were installed in JP Galvin Park (east of Stuart Park)
Parking in front of North Wollongong Surf Club was removed, and replaced with a new, wide shared path. We also added on-street parking to make up for the loss of car spaces at the surf club.
A new path was built from Squires Way to the Stuart Park regional playground.
2015
Stage Two of the Heritage Walk included a new 3m wide path, handrail, lighting and seats on the northern side of Endeavour Drive.
Stuart Park playground was updated with exciting features like a tower slide, flying foxes and accessible play options. A shaded boardwalk and picnic facilities were also added.
2012
Restoration work finished on the North Beach Bathers Pavilion, one of our most loved and iconic heritage buildings. It was upgraded with new amenities and a café. The North Beach Precinct around the Bathers Pavilion was also upgraded, including the retaining wall, promenade, stairs, pathways, lighting, street furniture and coastal protection works.
2011
Stage One of the Heritage Walk was finished between Brighton Lawn and Flagstaff Hill. A new path, rails, lights and landscaping were added. This stage of work was funded from Council's capital budget and $200,000 from the Australian Government's Regional and Local Community Infrastructure Program. ​
2010
East Cliff Road Footpath Stage Two: A wider footpath, fencing, lighting and new stairs were added between Georges Place and North Beach, supported with $2.9 million grant funding through the Australian Government's Regional and Local Community Infrastructure Program.
Flagstaff Hill Walk: A path, seats and viewing deck were built. The design and construction of this job were supported by the Department of Environment, Climate Change and Water (DECCW). Council also received a grant of $257,000 from the NSW State Government's Department of Environment, Climate Change and Water's Coastal Management Program towards the Flagstaff Hill Walk.
Cliff Road Upgrades outside Novotel Northbeach: New parking spaces and traffic calming features were added to make the area in front of the Novotel more pedestrian-friendly. We received a $40,000 grant from the Roads and Traffic Authority (RTS - now called Transport for NSW) towards this work. RTA also provided an additional $50,000 to help us install speed cushions along Cliff Road towards the harbour.
2009
East Cliff Road Footpath Stage One: We finished a new shared path from Belmore Basin to Georges Place, plus lighting, landscaping, a viewing platform, railing and seating.
2008
Brighton Lawn and Harbour Side Promenade: A new playground, promenade, seating, landscaping, viewing platform and picnic furniture were installed. A new sea wall and stairs were also built.
2007
A major upgrade to the eastern front of the Wollongong Entertainment Centre and Andrew Lysaght Rest Park was reestablished. It now has lawn terraces and memorial walls as it was the first cemetery in Wollongong. Conversion of the former Quilkey Place bus terminus to a landscaped carpark with a generous shareway connection to the south.
2003 to 2006
City Beach front was transformed. The old surf club was demolished and relocated to its current position. Works included a new viewing deck, substantial tree planting with interpretive art work, seating, showers, picnic facilities, and the construction of shared pathways and footways connecting the WEC to Flagstaff Hill.