Spin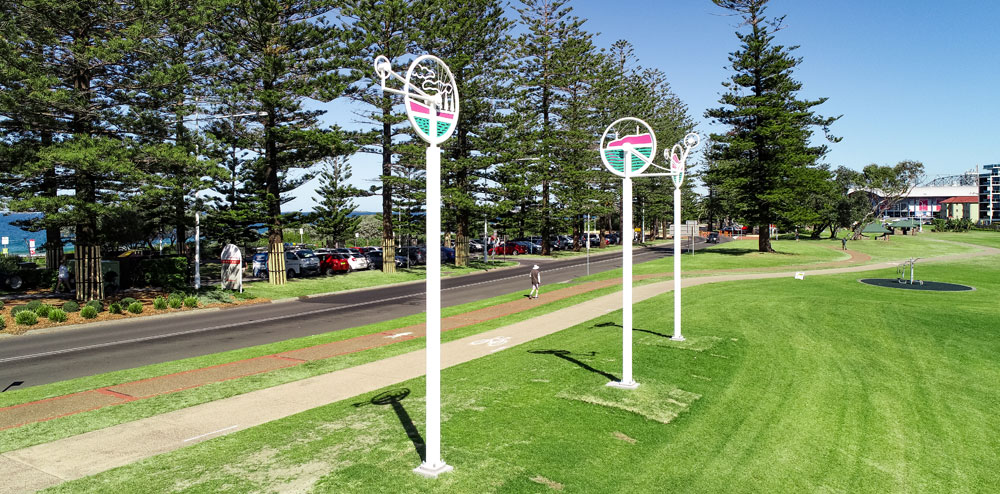 Spin (2023) is a public artwork by Jane Cavanough at Lang Park, Wollongong. The work is made of 316 stainless steel, coated with epoxy enamel paint.
In September 2022 Wollongong welcomed the world to the city by hosting the 2022 UCI Road World Championships. This international event saw 670 elite cyclists from 73 nations competing on our streets. Images of our city were also broadcast to more than 166 countries across the globe. At this event, Wollongong was awarded the UCI Bike City title, a status that recognises our efforts to improve cycling opportunities for everyone.
Wollongong City Council commissioned award-winning artist Jane Cavanough to create a public artwork that celebrates the Championships and Wollongong's status as a UCI Bike City.
Jane Cavanough's artwork, Spin, captures Wollongong's environment, landscape as well as the physical elements of the bicycle such as the wheel, hub, chain and spokes.
The position and height of the three artworks are reminiscent of flagpoles and represent the podium positions of race winners. The work's location in Lang Park is next to where the final stretch and finish line were located during the 2022 UCI Road World Championships.
The community experience and Wollongong's UCI legacy are captured in the artwork.
Take a closer look. How many Wollongong landmarks can you spot in the artworks?
This project was commissioned by Wollongong City Council's Public Art Program.
Location
Lang Park, Marine Drive, Wollongong