Saxon Reynolds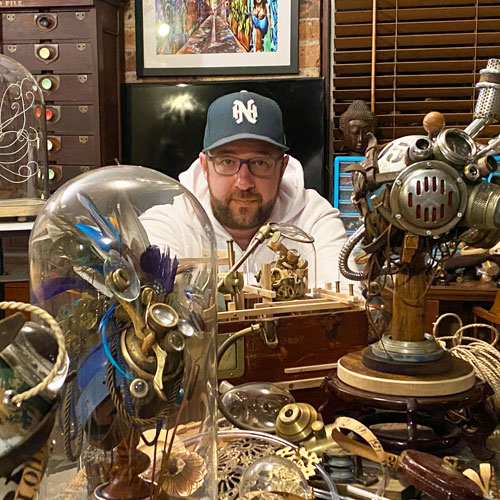 Saxon Reynolds is an illustrator, sculptor, and assemblage artist, working primarily with found objects.
Through his artworks, he aims to recontextualise the traditional Victorian "Cabinet of Curiosities", by reimagining evolution to hybridise natural and mechanical elements. His works explore the texture and beauty of discarded objects in their raw form and imbues them with new life and function, connecting disparate components to create contemporary relics.
His visual style shares common elements with Steampunk aesthetics, Cubist influences and implied kinetic movement created through the incorporation of mechanical components and antique materials, celebrating the exploration of alternate realities.
Saxon Reynolds has made the Illawarra his home for the last 20 years. After studying Creative Arts, majoring in Sculpture, at the University of Wollongong, he is now working as a Visual Arts Teacher at Wollongong High School of the Performing Arts, where he aims to encourage and inspire the next generation of artists.
He has exhibited both nationally and internationally, and has artworks in public and private collections around the world.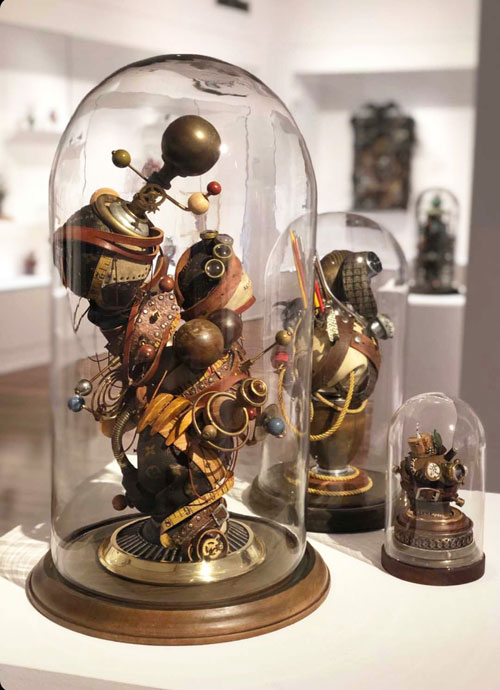 Above: Saxon Reynolds, Kinesis, Mecha, Popcork