#gongreads: In a different world
Monday 17 April 2023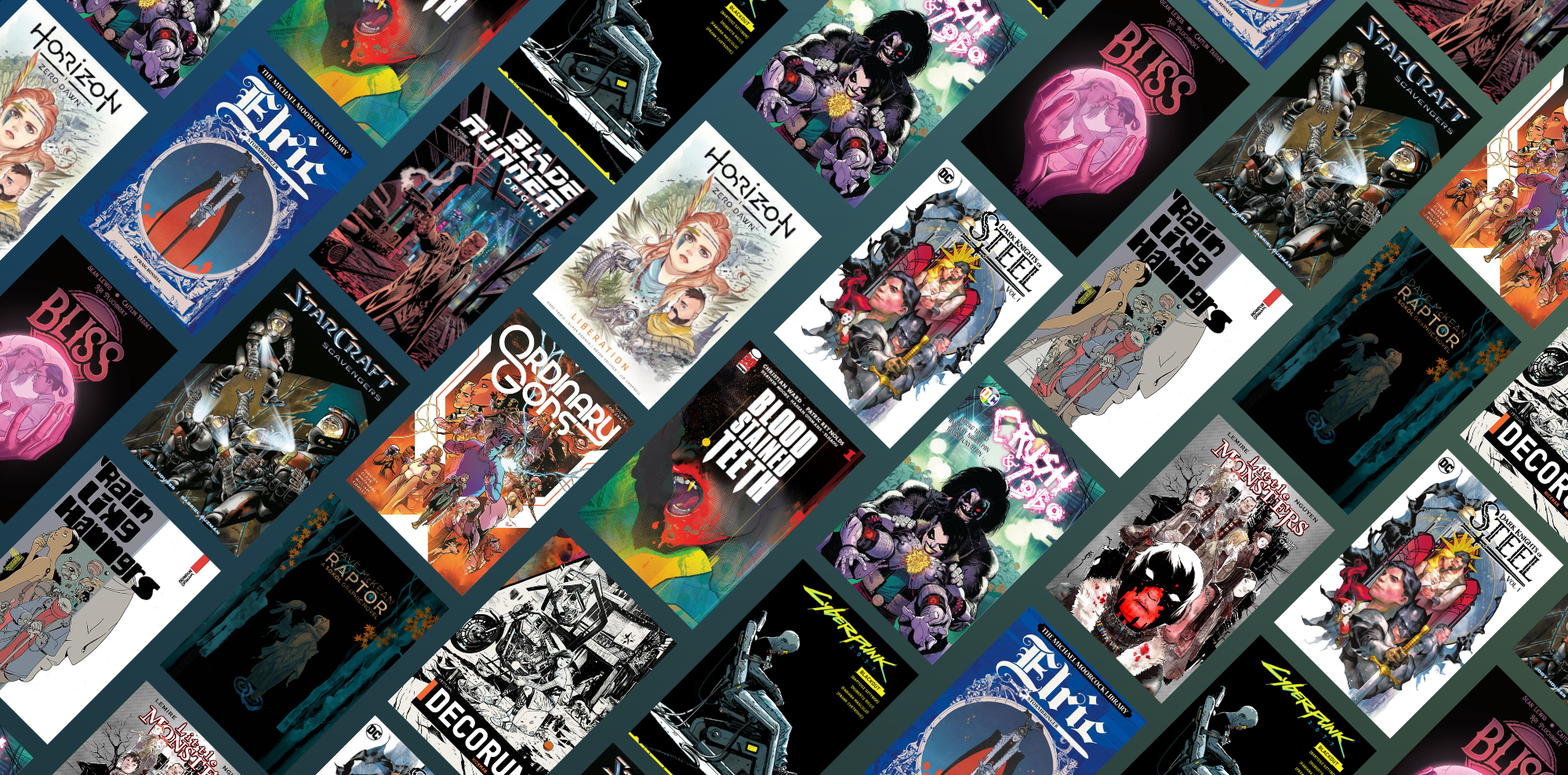 Explore some of the latest graphic novel releases inspired by the 2023 Reading Challenge prompt In a different world.
Blade Runner. Origins. Products

Authors: K. Perkins, Mellow Brown, Mike Johnson.

Borrow it

Travel to the world of Blade Runner 2009 and discover the origins of the Blade Runner Division. When a Tyrell Corporation scientist working on an experimental new type of Replicant is discovered dead in her laboratory, the victim of an apparent suicide, LAPD detective Cal Moreaux is called in to investigate. What he uncovers is a conspiracy of silence so deadly it could change the world as he knows it. Set ten years before the events of the first Blade Runner film, this is the world on the cusp of environmental collapse, and the beginning of the mass Off-world migration to the Off-world colonies. Through its rain-soaked streets, LAPD Detective Cal Moreaux, a PTSD sufferer, must travel as he attempts to unravel the truth behind a seemingly routine suicide that soon reveals itself to be just the thin end of a vast conspiracy, one that runs to the very top of the Tyrell Corporation tower.

Bliss

Author: Sean Lewis. Artists: Caitlin Yarsky, [colours by] Ari Pluchinsky.

Borrow it

There's a drug called Bliss wiping away memories in Feral City. But a good-hearted young man with a deathly sick child, makes a horrible deal. He will become the hitman for the gods providing the drug. And possibly lose everything in the process. A critically acclaimed examination of forgiveness, family that's rarely seen in comics. There has never been a book like Bliss before... and there probably never will be again.

Blood stained teeth. Bite me

Author: Christian Ward. Artists: Christian Ward, Patric Reynolds, [colours by] Heather Moore.

Meet Atticus Sloane; misanthropic criminal, avid vinyl collector and member of the aristocratic Vampire cabal The First Borns, and for the right price he'll turn you into a Vampire. After all immortality isn't cheap.

Crush & Lobo

Author: Mariko Tamaki. Artist: Amancay Nahuelpan.

Borrow it

Crush has quit the Teen Titans and realizes it's time to finally confront her old man in prison. She needs to prove to herself that she's nothing like him...and she's gonna do that by bounty hunting Lobo across space. Like father, like daughter? Like hell! Crush recently walked away from her classmates at the Roy Harper Titans Academy and effectively quit being a Teen Titan in a blaze of glory. Her relationship with her too-good-to-be-true girlfriend, Katie, is kind of on the rocks. She recently found out Lobo's in space jail, but that's cool, because he's the worst. Now it's time for the Main Man's daughter to go to space and confront her dad and all her problems.

Cyberpunk 2077. Blackout

Author: Bartosz Sztybor. Artists: Roberto Ricci, [colours by] Fabiana Mascolo.

Borrow it

In a city that operates on technology, a power outage brings catastrophe, but in darkness comes opportunity. It hurts. Night City hurts. The suffering runs deep and the deeper one falls, the longer the self-prescribed dreams play. Fortune, hope, love-all made possible by DMS technology. A braindance repairman's daily encounters with his clients reveal the deterioration of the human mind and the desperation driving those to surrender to illusion. But not everyone desires a happy ending. Riddled with doubt, self-hatred, and guilt, he soon discovers the answer to pain . . . comes in a blackout.

Dark knights of steel

Author: Tom Taylor. Artists: Yasmine Putri , Bengal, [colours by] Arif Prianto and Yasmine Putri.

Borrow it

An entire medieval world will be forever changed when a spaceship crash-lands from a doomed planet. Years later the El Kingdom reins and Jefferson Pierce, the head of the Kingdom of Storms sees their family as a threat and gathers allies to challenge them. Monarchs will die, kingdoms will rise, and what seemed like the end of the world for many ... was only the beginning!

Decorum

Author: Jonathan Hickman. Artist: Mike Huddleston.

In the world of Decorum, there are many assassins in the known universe, this is the story of the most well-mannered one. This hardcover edition collects issues #1-8 of the miniseries, and follows Neha Nori Sood, a cynical courier-turned-smuggler who finds herself in a dangerous situation. She is rescued by Imogen Smith-Morley, a fearsome assassin and member of the all-female Sisterhood of Man. Despite Neha's reluctance, Imogen takes her under her wing and grooms her as her new protege. Decorum seamlessly blends epic storytelling with immersive worldbuilding, making it a must-read for fans of sci-fi epics like Star Wars and action tales like John Wick.

Elric. Stormbringer

Author: P. Craig Russell. Artists: P. Craig Russell, [colours by] Lovern Kindzierski and Digital Chameleon.

Borrow it

Stormbringer marks the climatic chapter of the epic Elric saga, bringing to a conclusion the story of Elric of Melnibon, wielder of the Runeblade Stormbringer, and his legendary quest for vengeance. The stage is set for one final battle between the forces of Chaos and Law, and one final, truly apocalyptic fight to the death between Elric and his mortal enemy Jagreen Lern for control of the Cosmic Balance.

Horizon zero dawn. 2, Liberation

Author: Anne Toole. Artists: Elmer Damaso, [colours by] Bryan Valenza and Stelladia.

Borrow it

Set during the events of the Horizon Zero Dawn game, Aloy joins her friend Erend on the hunt for a dangerous associate of his beloved sister's murderer. Along the way, Erend narrates the sweeping tale of the Liberation of Meridian, revealing how his sister prevailed against all odds only to earn the wrath of one of the most brilliant and vengeful warriors of the Oseram tribe.

Little monsters

Author: Jeff Lemire. Artist: Dustin Nguyen.

Borrow it

They are the last children on Earth...and they also happen to be vampires. For longer than any of them can remember, these child vampires have lived a life of eternal wonder amongst the ruins of humanity. But shocking events fracture the group and set them on a path of discovery that will shatter their innocence forever.

Ordinary gods. God spark

Authors: Kyle Higgins, Joe Clark. Artists: Felipe Watanabe, [colours by] Frank William.

Borrow it

The Luminary. The Prodigy. The Brute. the trickster. The Innovator. Five gods from a realm beyond our own, leaders in the "War of immortals." At least, they were--before they were trapped, sent to a planet made into prison, forced into an endless cycle of human death and reincarnation. Christopher in 22. He's got two loving parents and a 12-year-old sister. He works at a paint store. He's in therapy. He's on of the Five. Which means, in order to save everyone he cares about, Christopher will have to reconnect with his past lives and do the unthinkable: become a god again.

Rain like hammers

Creator: Brandon Graham.

Borrow it

A self-contained graphic novel of distant, far-future science fiction. Supercriminal Brik Blok journeys to the palace-world of Sky Cradle ... and disguises himself by transferring his mind into the body of a genetically engineered butler.

Raptor: a Sokol graphic novel

Creator: Dave McKean.

Borrow it

A visual tour-de-force graphic novel from artist and writer Dave McKean (Black Dog, The Sandman). The Raptor, Sokol, flickers between two worlds: a feudal fantastical landscape where he must hunt prey to survive, and Wales in the late 1800s where a writer of supernatural tales mourns the passing of his young wife. He exists between two states, the human and the hawk. He lives in the twilight between truth and lies, life and death, reality and the imagination. World Fantasy, Harvey, British Science Fiction Association, and V+A Book Award winner Dave McKean's first creator-owned character is a wandering spirit for our times.

StarCraft. Scavengers

Author: Jody Houser. Artists: Gabriel Guzmán, [colours by] Michael Atiyeh.

Borrow it

Seen from the point of view of a young, inexperienced engineer, a group of terran space scavengers hope to pull off the job of their lifetimes, ignoring a recent United Earth Directorate treaty to pillage a derelict protoss ship. The scavengers' dangerous plan is compounded by the fact that the protoss ship is in a decaying orbit above a backwater planet. If their time doesn't run out and Dominion police forces don't bust them, will protoss or zerg factions in the outer rim find and execute them?
Read something different for this challenge? Let us know by tagging us in your photos or reviews on social media! Use the hashtag #gongreads and tag us @wollongongcitylibraries (Facebook) or @wollongonglibraries (Instagram) for the chance to win a book lovers prize.