Celebrating female friendship this Galentine's Day
Friday 10 February 2023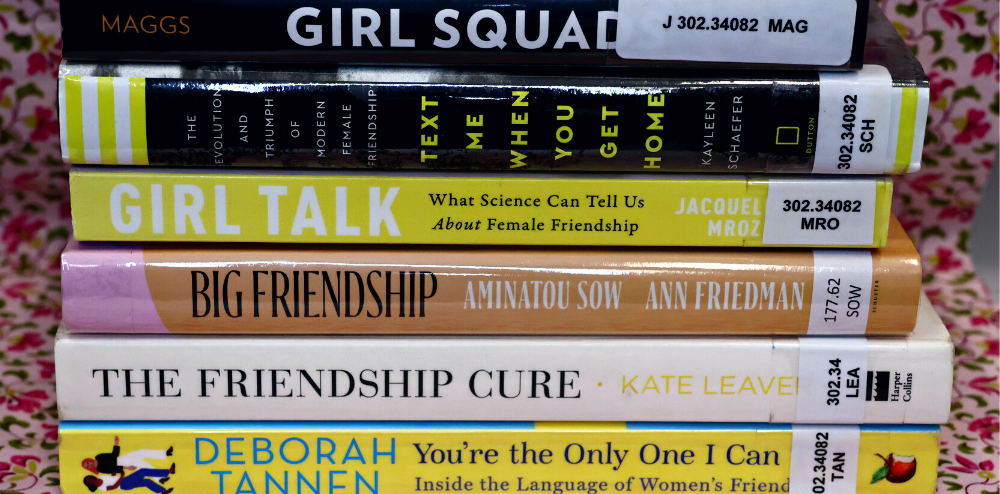 Girl Squad : 20 female friendships that changed history by Sam Maggs

A modern girl is nothing without her squad of besties, but Maggs takes readers on a tour of some of history's most famous female BFFs. You'll meet lady pirates, socialites, Olympic skiers and medical students who showed just how essential female friendship has been throughout history-- and throughout the world.

Text Me When You Get Home by Kayleen Schaefer

Examines the evolution of female friendship in pop culture and modern society, celebrating how the bonds between women have evolved to have as much significance as relationships with romantic partners and family members.

Girl Talk : what science can tell us about female friendship by Jacqueline Mroz

In Girl Talk, New York Times science reporter Jacqueline Mroz takes on the science of female friendship--a phenomenon that's as culturally powerful as it is individually mysterious. She examines friendship from a range of angles, from the historical to the experiential, with a scientific analysis that reveals new truths about what leads us to connect and build alliances, and then "break up" when a friendship no longer serves us. Mroz takes a new look at how friendship has evolved throughout history, showing how friends tend to share more genetic commonalities than strangers, and that the more friends we have, the more empathy and pleasure chemicals are present in our brains. Scientists have also reported that friendship directly influences health and longevity; women with solid, supportive friendships experience fewer "fight or flight" impulses and stronger heart function, and women without friendships tend to develop medical challenges on par with those associated with smoking and excessive body weight. With intimate reporting and insightful analysis, Mroz reveals new awareness about the impact of women's friendships, and how they shape our culture at large.

Big friendship : how we keep each other close by Aminatou Sow and Ann Friedman

How do you build something that can be as important as a romantic relationship, without the official acknowledgement of the larger culture? How do you employ those strategies to deepen a sense of satisfaction and connection? Ann and Amina have worked to create meaningful networks (AKA ladywebs) and a culture of deep affection and support rather than envy (AKA shine theory). They bring the reader into therapy sessions, group holidays, personal crises and job developments to show how all of this has worked in real life.

The Friendship Cure : the art of friendship and why it matters more than ever by Kate Leaver

Our best friends, gal-pals, bromances, Twitter followers, Facebook friends, long distance buddies and WhatsApp threads define us in ways we rarely openly acknowledge. There is so much about friendship we either don't know or don't articulate: why do some friendships last a lifetime, while others are only temporary? How do you 'break up' with a toxic friend? Can men and women really be platonic? And maybe the most important question: how can we live in the most interconnected age and still find ourselves stuck in the greatest loneliness epidemic of our time? It's killing us, making us miserable and causing a public health crisis. What if meaningful friendships are the solution, not a distraction? Kate Leaver's much anticipated manifesto argues that friendship can cure the modern malaise of solitude, ignorance, ill health and angst. She looks at what friendship means, how it can survive, why we need it and what we can do to get the most from it. From behavioural scientists to best mates, Kate finds extraordinary stories and research, drawing on her own experiences to create a fascinating blend of accessible 'smart thinking', investigative journalism, pop culture and memoir.

You're the Only One I Can Tell : inside the language of women's friendships by Deborah Tannen

Best friend, old friend, good friend, new friend, neighbour, fellow mother at the school gate, workplace confidante: women's friendships are crucial. A friend can be like a sister, daughter, mother, mentor, therapist or confessor. She can also be the source of pain and betrayal. From casual chatting to intimate confiding, from talking about problems to sharing funny stories, there are patterns of communication and miscommunication that affect friendships. Tannen shows how even the best of friends - with the best intentions - can say the wrong thing, how the ways women friends talk can bring friends closer or pull them apart, but also how words can repair the damage done by words. She explains the power of women friends who show empathy and can just listen; how women use talk to connect - and to subtly compete; how fears of rejection can haunt friendships; how social media is reshaping relationships.

Witches : what women do together by Sam George-Allen

Witches is a celebration of the power and pleasure of working with other women, and a powerful statement against the cultural conspiracy to keep us apart from one another - against the myths of the 'cool girl' or the 'catty workplace'. Sam George-Allen knows that women working together are formidable. She delves into female-centric workplaces, industries and groups to illustrate how well women do actually work together, and explores these activities historically, spiritually, materially, culturally, traditionally, and personally. Covering groups as diverse as nuns, farmers, girl bands, sex workers, the beauty industry and sportswomen, teen girls and midwives, Witches dismantles the cultural myth of female isolation and reframes the way we look at female relationships, using Sam's own experiences as a jumping off point. Personal, relatable and readable; Witches is for every woman who thought she was happy to be the only one.

Work Wife : the power of female friendship to drive successful business by Erica Cerulo

When Erica Cerulo and Claire Mazur met in college, they bonded instantly. Fast-forward to 2010, when after almost a decade of friendship they founded the popular fashion and design website Of a Kind. Now, in their first book, Cerulo and Mazur bring to light the unique power of female friendship to fuel successful businesses. Drawing on their own experiences, as well as the stories of other thriving "work wives," they highlight the ways in which vulnerability, openness, and compassion--qualities central to so many women's relationships--lend themselves to professional accomplishment and innovation. Featuring interviews with work wives such as Amanda Hesser and Merrill Stubbs of the influential food community site Food52, Ann Friedman, Aminatou Sow, and Gina Delvac of the hit podcast Call Your Girlfriend, and Misty May-Treanor and Kerri Walsh Jennings of Olympic volleyball fame, Work Wife addresses a range of topics vital to successful partnerships, such as being the bosses, tackling disagreements, dealing with money, and figuring in motherhood. Demonstrating how female partnerships in the office are productive, progressive, and empowering, Cerulo and Mazur offer an invaluable roadmap for a feminist reimagining of the workplace. Fun, enlightening, and informative, Work Wife is a celebration of female friendship and collaboration proving that it's not just feasible but fruitful to mix BFFs with business.

Things You Can't Ask Yer Mum by Lizzy Hadfield

Heartbreak, grief, falling in love, falling out of love, friendships, disastrous sex anecdotes - this book is filled with everything you don't want to ask your mum. The duo behind the chart-topping podcast Things You Can't Ask Yer Mum take a deep-dive into the ups and downs of life. Lizzy and Lindsey share the twists and turns of their own experiences in their usual hilariously honest style, offering reassurance on all the questions you just might be too afraid to ask. The book embodies what Lindsey and Lizzy have had through their friendship: the ability to honestly pass on their own experiences in life in order to help the other. With never-heard-before anecdotes and bite-sized chunks of content to return to, this valuable book will be a friend to you - one that shares reassuring stories of losing virginity using a blueberry flavoured condom, losing friends and losing inhibitions. It is a book for anyone, at any stage of life.