Parish: Woonona
County: Camden
Woonona is a suburb in the north of the Wollongong Local Government area.
Local communities of Aboriginal people were the original inhabitants and Traditional Custodians of Illawarra Land. Their dialect is a variant of the Dharawal language.
Before European settlement, the Aboriginal people of the region lived in small family groups with complicated social structures and close associations with specific areas.
Suburb boundaries do not reflect the cultural boundaries of the local Aboriginal community.
Traditional Custodians today are descendants of the original inhabitants and have ongoing spiritual and cultural ties to the Land and waterways where their ancestors lived.
A post office was established at "Woonoona" in 1859.
There are several explanations for the derivation and meaning of Woonona:
An Aboriginal word meaning "Place of young wallabies" or "run now"
An Aboriginal word for a feature of the nearby escarpment
From the Aboriginal word "wunona" meaning "sleep".
Land grants
A grant of 1,920 acres from Towradgi to Woonona, taking in Corrimal, Bellambi and Woonona Flats, was granted to R and C Campbell by Governor Gipps on 30 April 1841. This was a promise of grant by Governor Darling to "Miss Harriett Overington, now Mrs Spearing" on 3 March 1827. This grant was a long irregularly-shaped property (Portion 113, Parish of Wonona), sometimes referred to as "Bellambi" or "Palamba" but extending from Towradgi to Woonona (Paulsgrove Diary, 1988).
Other smaller grants in the area included those to Robert Marsh Westmacott, Patrick Callaghan and John Kelly (Lindsay, 1994).
Henry Strange Fry
Henry Fry was born in Bath, England in 1829. He arrived in Sydney as a free settler in 1854. Fry opened the first general store in Woonona in 1857 and the first Woonona Post Office in October 1859. His store was in a central spot and a tramway ran through his paddock. Henry Fry remained Postmaster until 1 August, when he sold his store and Edward Ramsay Jnr was appointed Postmaster.
Ramsay was dismissed because of irregularities in his official accounts and Fry was reappointed Postmaster on 11 August 1881. It was Fry who decided that his adopted home be named Woonona, an Aboriginal name for a nearby mountain peak. He married Elizabeth Jones in 1862 and lived in the Woonona-Bulli district until his death in 1907.
Henry Fry was a magistrate of the Bulli Court House from 1873-1898, a life member of the Bulli Cottage Hospital, President of the Woonona School of Arts and Chairman of the Progress Committee and Park Trust of Bulli (Local Studies Cuttings File).
Thomas Hale
The Woonona Mine was opened in 1857 by Thomas Hale, on property owned by Henry Osborne. Hale was the first man in the district to erect a deep water jetty to ship coal at Bellambi Bay. Thomas Hale promoted the superior quality of Illawarra coal far and wide, sending samples to England and having them tested. He also sent coal to China for the first time, and it was not long before Illawarra coal became the preferred import of the overseas markets. Cargoes of coal were sent to California as well.
The Woonona Colliery was closed in 1863 due to the deteriorating financial situation experienced by Thomas Hale and Henry Osborne. Thomas Hale died in 1883 (Local Studies Cutting File).
James Edmund Pallier
James Pallier was born in Woonona in 1894. He served his apprenticeship as a plumber with Jack Colles and after gaining his trade certificate he commenced business as a licensed plumber in Woonona. This business continued for 45 years. In 1955 James Pallier established the firm J E Pallier & Son Pty Ltd at Princes Highway, Woonona to specialise in the manufacture of sheet materials for the plumbing trade. Mr Pallier was also a member of Wollongong Rotary Club for many years, and during World War II helped to raise much-needed money for The Red Cross, War Chest and Comfort Funds by organising regular gymkanas in Nicholson Park, Woonona. Mr Pallier died in December 1963 (Local Studies Cuttings File).
James Downie
James Downie was born in Falkirk, Scotland in 1835. He married Margaret McCann and came to live at Woonona in 1856. In the same year he commenced business as a blacksmith at Woonona. There were six sons and six daughters from the marriage and all the sons followed the occupation of blacksmith. James Downie died at Bulli in 1908 (Local Studies Cuttings File).
Thomas James Ball
Thomas Ball was born in Shewsbury, England in 1852. He migrated to Australia in 1878, first settling in Wollongong. He worked as a miner for several years, then took on road contracting and was a general carrier in the Woonona district. Eventually he became a manufacturer of cordials. Together with his wife Hannah he operated the Steam Cordial Works and was also proprietor of the Royal Hotel at Woonona, which remained his property until his death in 1928. Thomas Ball was a foundation member of the Woonona Bowling Club (Local Studies Cuttings File).
Cedar getting
Large amounts of cedar grew underneath the Illawarra Range. This cedar was drawn by bullock teams from the mountain side to the beaches where the cedar logs were winched on to the sailing ships which anchored beyond the breakers. David Charlesworth Snr was issued with one of the first Cedar Licences in April 1835.
Coal Mining
In 1857 Thomas Hale of Woonona opened the Bellambi (also called the Woonona) coal mine. The mine was three-quarters of a mile up the mountainside in a seam eight feet thick. A bush track was cut to the mine and the coal ran down the mountainside on a shoot. Horse-drawn drays then loaded it and transported it to Bellambi Harbour. Hale's mine closed in 1863. It was eventually re-opened and the Woonona and South Bulli collieries were connected underground and operated by Bellambi Coal Company (Bayley, 1956).
Woonona Industrial Co-operative Society Limited
The Society was established in 1897 with its head office in Woonona and branches in Scarborough, Coledale, Thirroul, Corrimal, Balgownie, Wollongong and Port Kembla. The head office included shopfronts, extensive warehouse facilities, a cordial factory, tearooms, bakery and stables for the delivery horses.
The Co-op sold fresh bread, cakes, vegetables, clothing, electrical goods, crockery, kitchenware, furniture, haberdashery, manchester, garden supplies, chaff, wheat, tools, kerosene, building materials and cement. Orders were collected from homes and delivered by horseback until the 1940s, and then by motorbike. Large orders were delivered by horse and cart and later by delivery van (A History of Wollongong, 1997).
Railway
Woonona crossing signal box was opened in 1889 to control the crossing on the level of the railway between Model Colliery, Woonona and Bellambi Point Jetty. Although the Model Colliery closed down in 1903, the private line was used by Pendlebury's Brickworks on the Bulli Road. In 1940 Pendlebury's Brickworks abandoned rail transport and the line was closed. The Woonona signal-box was permanently closed and removed in 1941.
Woonona platform was opened on the western side of the single line in 1919 at the Park Street level crossing. A second platform was added opposite in 1923 (Singleton, 1972).
Road
Rixons Pass was completed in 1858. In 1859 it was reported that Charles Throsby Smith ascended Rixons Pass in a gig with no difficulty and "without having to alight once" (Illawarra Mercury, 2 September 1858; 14 April 1859).
Woonona Post Office
Address: 430 Princes Highway, Woonona
The Post Office building was designed by Walter Liberty Vernon, a government architect. It is a single storey brick building with a corrugated metal roof. The post office was built in 1903 by G E Frazer using local brick. The building was completed on 23 September 1903 and was officially opened on 28 September by the Hon. George Fuller MP.
This building is currently being used as a Pre-School Centre and the current post Office is now located in the eastern side of the Princes Highway (City of Wollongong Heritage Study, 1991).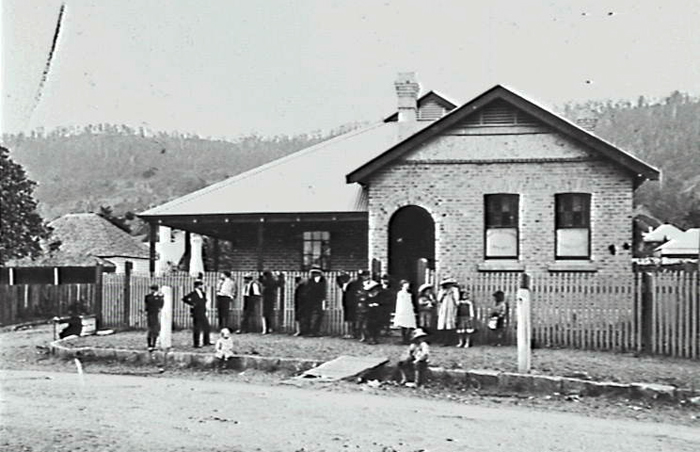 Image: Woonona Post Office, 1904, image number P03270.
Woonona Infants School
Address: Gray Street, Woonona
Woonona Infants School was built in 1890. Another large classroom was added in 1902. It was a single storey brick building with a corrugated metal roof in simple Federation style. The block was destroyed by fire and replaced by brick veneer block facing Gray Street in 1965.
Another infants block was completed in 1927 and the original 1884 school was then demolished. The new block was a two storey brick building with tiled roof, Inter-War Stripped classical style (City of Wollongong Heritage Study, 1991).
Woonona Industrial Co-operative
2-22 Ball Street, Woonona
This is a large two storey rendered brick building with an ornate parapet of moulded decoration. The Co-operative Society (est. 1886) began baking bread in 1904 and made as many as 40,000 loaves a week. The Co-operative was headquarters of the Coast Co-operative society which had 3,000 members. It is an unusual commercial landmark building of simplified and eclectic Inter-War Spanish mission style (City of Wollongong Heritage Study, 1991).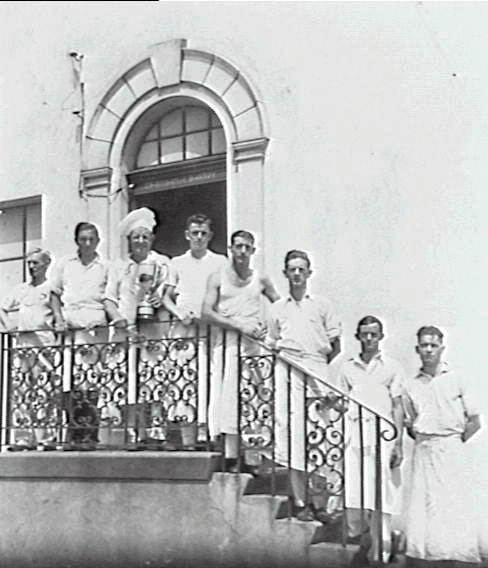 Image: Woonona Industrial Cooperative, image number P03274.
Woonona School of Arts
Address: 479 Princes Highway
The original building was built in 1862 on land purchased by John Sommerville, Thomas Hale, William Sommerville and John Collaery. This building stood until 1935, when the trustees at the time built the present premises, which is a single storey brick and tile building. There was a large hall, a reading room, library, two meeting rooms, a billiard room and a kitchen (City of Wollongong Heritage Study, 1991).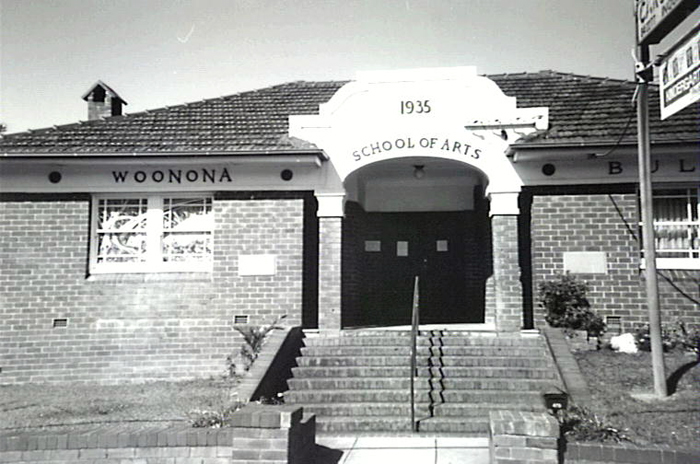 Image: Woonona School of Arts, image number P11531.
The sequence of sedimentary rocks in this district is Wianamatta Shale, Hawkesbury Sandstone, Chocolate Shale, Narrabeen Sandstone, Upper Coal Measures. The influence of parent rock and topographic shelter is very apparent on the type of vegetation that grows in different areas of the district (Davis, 1936).
The Escarpment in this area supports good quality stands of Eucalyptus and rainforest. Unfortunately, extensive clearing and bush fire damage behind and north of South Bulli Colliery as far as Woonona Heights has degraded the area. Wet sclerophyll forest is found on parts of the eastern slopes from Rixon's Pass to Bulli Pass Scenic Reserve (Gordon, 1985).
Pied Currawongs are common birds of the forests of the district. At Woonona, on the edge of the escarpment forests, this species has bred for several years in the same tall eucalypt tree (Mills & Jakeman, 1995).
| Date | Event |
| --- | --- |
| 1770 | Attempted landing by Captain Cook near Collins Rock (Flat Rock), Woonona |
| 1856 | James Downie commences business as a blacksmith at Woonona |
| 1857 | Woonona Mine opened by Thomas Hale |
| 1857 | First general store opened in Woonona |
| 1859 | Post Office established at Woonona |
| 1859 | Six foot seam of coal discovered near Woonona Post Office; worked in conjunction with Mr Hale's Bellambi mine |
| 1863 | |
| 1868 | Money order facilities were introduced at Woonona Post Office |
| 1871 | New Presbyterian Church opened |
| 1871 | A branch of the Government Bank opened |
| 1885 | |
| 1888 | Road from main street to Woonona School formed and metalled |
| 1889 | Woonona mine re-opens after 25 years |
| 1890 | Woonona Infants School built |
| 1894 | Woonona Bowling Club founded; oldest Bowling Club in the Illawarra |
| 1896 | Woonona Industrial Cooperative Society established |
| 1901 | Pendlebury's Brick Works established by Thomas Pendlebury |
| 1901 | Woonona Royal Hotel built |
| 1902 | Woonona School of Arts re-opened by Hon. W P Crick, Minister for Lands |
| 1903 | New Post Office opened by G W Fuller, MHR |
| 1904 | Industrial Co-operative started; originally built as a bakery |
| 1906 | Davidsons Polytechnic store and Molloys dwelling and timber yard destroyed by fire |
| 1908 | Woonona Baptist Church opened |
| 1912 | |
| 1915 | W A Pitman's Newsagency established |
| 1922 | Trains to call at Woonona Railway Station from 9 January |
| 1924 | Work begins on excavation of swimming baths at Collins Rocks to replace original pool constructed in 1901 |
| 1928 | Woonona Baths Pavilion opened |
| 1951 | Lakins supermarket opens in Woonona opposite co-op Head Office |
| 1955 | Firm of J E Pallier and Son Pty Ltd established at Princes Highway, Woonona; specialised in the manufacture of sheet metal materials for the plumbing trade |
| 1955 | Housing Commission resumes 35 acres for housing at East Woonona |
| 1956 | Woonona Baby Health Centre opens on Princes Highway, on the site of the old Princess Theatre |
| 1960 | Opening of Woonona Bulli Returned Services Leagues Club |
| 1962 | Chesalon Home opened by Lady Hoskins |
| 2000 | Commonwealth Bank in Woonona closes |