Local people with disability who are working in paid jobs shared their stories with us for the EmployABILITY project.
This project was part of our Disability Inclusion Action Plan. It aimed to raise awareness about the challenges people with disability face in finding work. The project also celebrates the contribution of people with disability, and how working has improved their lives.
We'd like to send a huge thank to our EmployABILITY participants and our project partners, Shellharbour City Council.
You can read the stories below.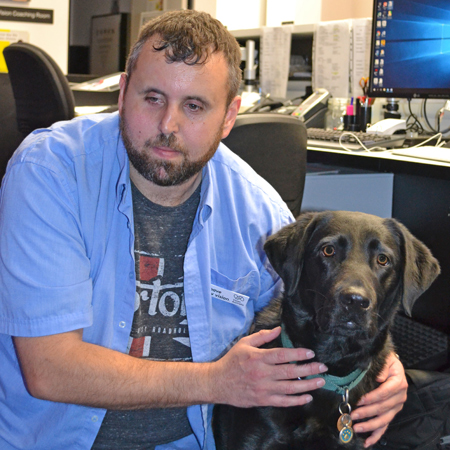 "Over the years I've worked in a number of environments. I've been a home dad, I've worked as a telemarketer, I've been a musician and teacher and I've been a customer service officer at the State Library amongst other things.
There are lots of assumptions about employing someone who is blind. Employers may think they need to spend a lot to accommodate a blind person when often only simple modifications are needed.
Employers need to try and think a bit outside the box. If a person with disability wants to work, they will often work that extra bit harder just to be there.
I currently volunteer at Vision Australia, but even getting volunteer work has proved to be a challenge. In a nut shell employment often comes down to whether employers are prepared to be open and flexible enough to help find solutions and be willing to make changes."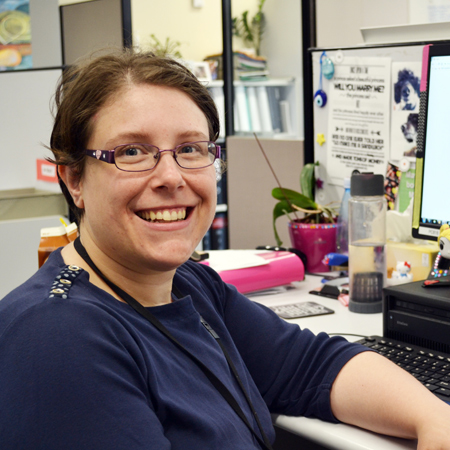 "While I am a wheelchair user it is my 'invisible' disability (Crohn's Disease) which nearly killed me and has caused me the most grief.
I'm currently in my second year of a law degree and work in Governance Information at Wollongong Council. My workplace is supportive and provides the modifications that make it easy for me to move around and to transition from role to role. The staff just see me as Hayley and have become less awkward with my disability.
When I finished my IT Diploma 12 years ago and was interviewed by the disability employment agency, I was told by the recruiting officer 'you know, you don't have to work'. It did nothing for my confidence.
To an employer I would say, 'don't be afraid of offending someone with a disability and don't overthink it'. Treat them as if you would someone without a disability. And once they start working don't be afraid to use and challenge their abilities."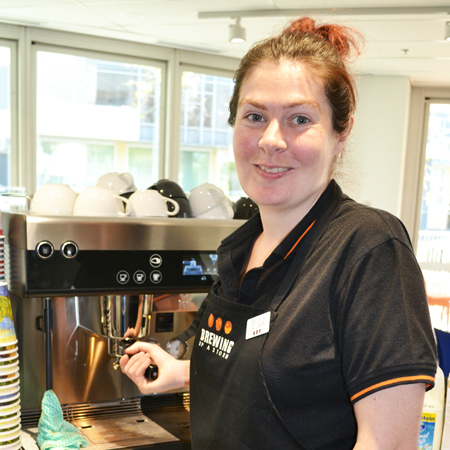 "I currently work at the Brewing Up a Storm Café in Burelli St Wollongong. Since I started at the café my mum has noticed I am happier, I have also noticed I am happier.
If I didn't have this job I would be sitting at home watching Netflix and I would be bored out of my brain. I have made new friends and I enjoy coming to work.
I've been told that I have changed. Before I started working at the café I was shy but now I get told I talk a lot and maybe too much.
I have an intellectual disability. I previously worked in another café but I only got to work out the back. Here I make coffee and meet people. I also have a certificate in hospitality from the TAFE. I am grateful to Greenacres for giving me the chance to work in the café."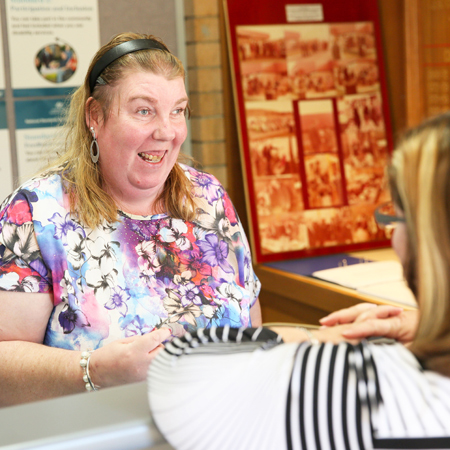 "I have been blind since early childhood. I have gone from Supported Employment to Open Employment, and back to Supported Employment with Flagstaff.
Whilst employment opportunities have improved, it was at times like hitting your head against a brick wall. I liked using computers but I wanted to do more than just bang on keyboards.
I went to TAFE and did computing courses and got a receptionist certificate. Whilst working part time at Flagstaff, I kept myself busy and volunteered at Barnardos.
I like the variety of work I experience providing receptionist services at a number of Flagstaff sites. I am the go-to person for proofreading our Braille products from our Print and Mail division, and I also make sure our webpage is compliant with accessibility regulations. Flagstaff has supported me and bought me the JAWS speech program, dual headsets, an open book scanner, and provided me with training.
Working has made me happier and the people close to me have noticed a huge difference in myself."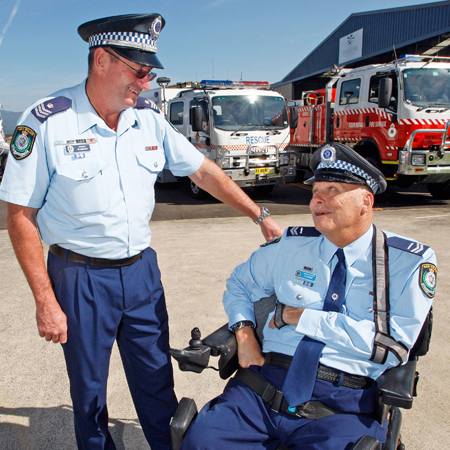 "I've been in the police force 39 years and in a wheelchair 35 years.
Initially I was told there was nothing they could do for me as my injury was too severe. After speaking with a welfare officer he was able to get me back to work a few hours a day until I was able to return full time.
My first station was Port Kembla where the guys used to carry me up the stairs. Later I was transferred to Dapto which was wheelchair accessible; there I spent a busy 15 years. Eventually I left and became an intel analyst running a strike force.
My advice to employers is give someone a go. If I hadn't worked I'd probably be on a pension. But I'm a better person for having had work and for having been a police officer.
Work is a distraction, it stops you from focusing on the pain and withdrawing into yourself. I was fortunate to be given a go but it has also been good for those around me to learn to see beyond a person's disability. "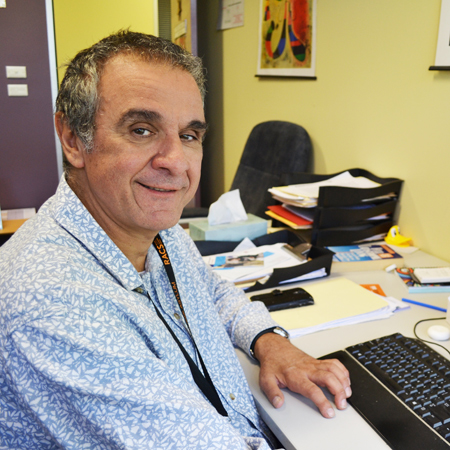 "I had a spinal cord injury in 1986. Following the accident, I enrolled in a Welfare Certificate at TAFE where I was advised by the careers counsellor to pursue a vocation in counselling as it was the most appropriate for someone confined to a wheelchair. I completed the certificate, found employment as a counsellor and enrolled in a Psychology Degree.
I've been lucky; I have worked for government departments that are supportive. I currently work for the University of Wollongong as a student counsellor. In 2016 I was awarded the Vice Chancellor's Rosemary Cooper Award for 'overcoming personal adversity in the service of others'.
Some people are uncomfortable around people with disability and treat us as more disabled that we are. At work I get treated as an equal by colleagues and clients.
One of the biggest barriers is attending staff social functions, wheelchair access is not always available and you can sometimes feel like a burden. While I am an active person, chronic back pain and torn tendons from repetitive movement are issues I face daily."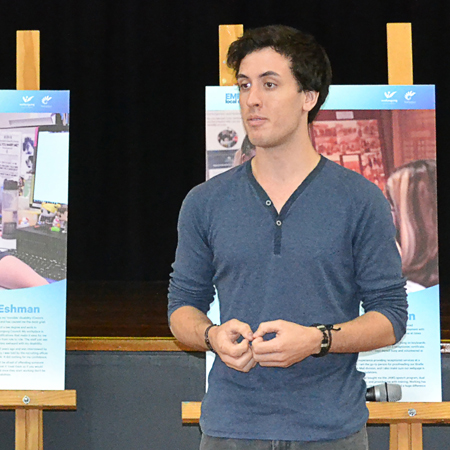 Living Outside the Box was written by spoken word poet Elliot York Cameron. He created this piece for the EmployABILITY project, and presented it the project launch in December 2017.
Think outside the box you've placed us in.
The box that had us hiding out the back, or being told "there's nothing we can do for you", or "you don't have to work".
Think outside of that.
Think outside the paradigm of: ability vs. disability.
Look beyond the blindness.
Walk right past the wheelchairs.
Come and meet us.
We might tell you stories
of colleagues that have to carry us up the stairs of police stations, or the difficulties of attending staff social functions, or how the discomfort of those around us bruises our confidence, or how it feels to be seen as a burden.
But we might also tell you stories
of how much better it is to serve someone coffee than to be stuck at home with nothing but Netflix for company.
Stories of how it feels to wear a scar like a "medal of life", or to be seen as a person and not a disability.
Stories of how it feels to value every single day and live to the fullest.
Think outside the box of "we don't HAVE to work".
Maybe we don't—but we choose to.
And though parts of our bodies might try to disable us they enable us to fight to work that extra bit harder.
Because it isn't our disabilities that stand in the way of us being able members of society, it's your assumptions.
And we may look awkward
navigating our way through life with a wheelchair or cane, but—believe me—we don't look anywhere as awkward as you do around us.
Almost as if you fear what we are capable of more than what we aren't.
Think outside the box.
Some of us may be blind, but it's you who doesn't see us.
You may see the eyes that don't look back at you or the legs that no longer walk toward you, but like missing the forest for the trees, you failed to see the hearts that still beat.
You can never be the legs we long to walk on but you can be a hand that helped open a door.
Don't worry about whether we'll make our way through, have confidence knowing we can find our own way.
We're all living on confidence
after all.
Think outside the box,
because some of us have already been living outside of it.
And whether we get by on wheelchairs
or with guide dogs and braille
or simply our hopes and dreams,
we will get around.
Mark our words:
we will be there,
ready for the challenge.
So please—challenge us.
Let us contribute to the same society
that would try to fit us into a box in the first place.
Let us work toward a world where the only thing that's disabled are our assumptions.
Because we are all able.
And boxes were never going to be big enough for hearts as able as these.